Main Street Memories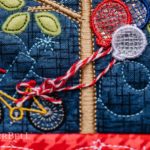 All growing up, my Saturday afternoons were happily spent on Main Street. First, I'd pedal my Sky Queen bicycle to the historic Carnegie Library for an armload of Nancy Drew mysteries. Next, I'd hit the corner store for a whole bag of penny candy (which actually cost a penny, thank you very much). And, if I felt particularly wild and crazy, I'd pop into the dollar theater for a matinee.
You see, when you grow up in a small town like I did, Main Street is where it's at.
It's where the parades are held. It's where the Slurpees are sold. It's where the fire station stands. And in my hometown, it's where Smithfield Implement has sold everything from toys to cowboy boots since 1914.
All of these memories and more are why I absolutely love Kimberbell's Main Street Celebration Bench Pillow, available for both sewing and machine embroidery. Each block evokes powerful feelings for me, from the bicycle (Is that me on my Sky Queen?) to the colorful Fairy Light fireworks. When I see this Bench Pillow, I don't only see the shiny Embroidery Leather, sparkly Applique Glitter, darling buttons and other embellishments—although these dimensional details make this pillow absolutely stunning. Rather, I think of the people behind the stitches: business owners, neighbors, farmers, and hometown heroes. 
Kimberbell's Hometown Heroes
"There's no better feeling than actually helping someone," says Cole, a local firefighter and paramedic. "I want to help others on what is potentially their worst day. Unfortunately, there are things in this profession that you wish you could unsee. But the moments when you help someone make it all worth it." 
"I like feeling that I make a difference while I'm at work," Cole continues. "It can be taxing for sure, but it's also easy to find satisfaction. The moment you can actually help someone–well, there's no better feeling than that."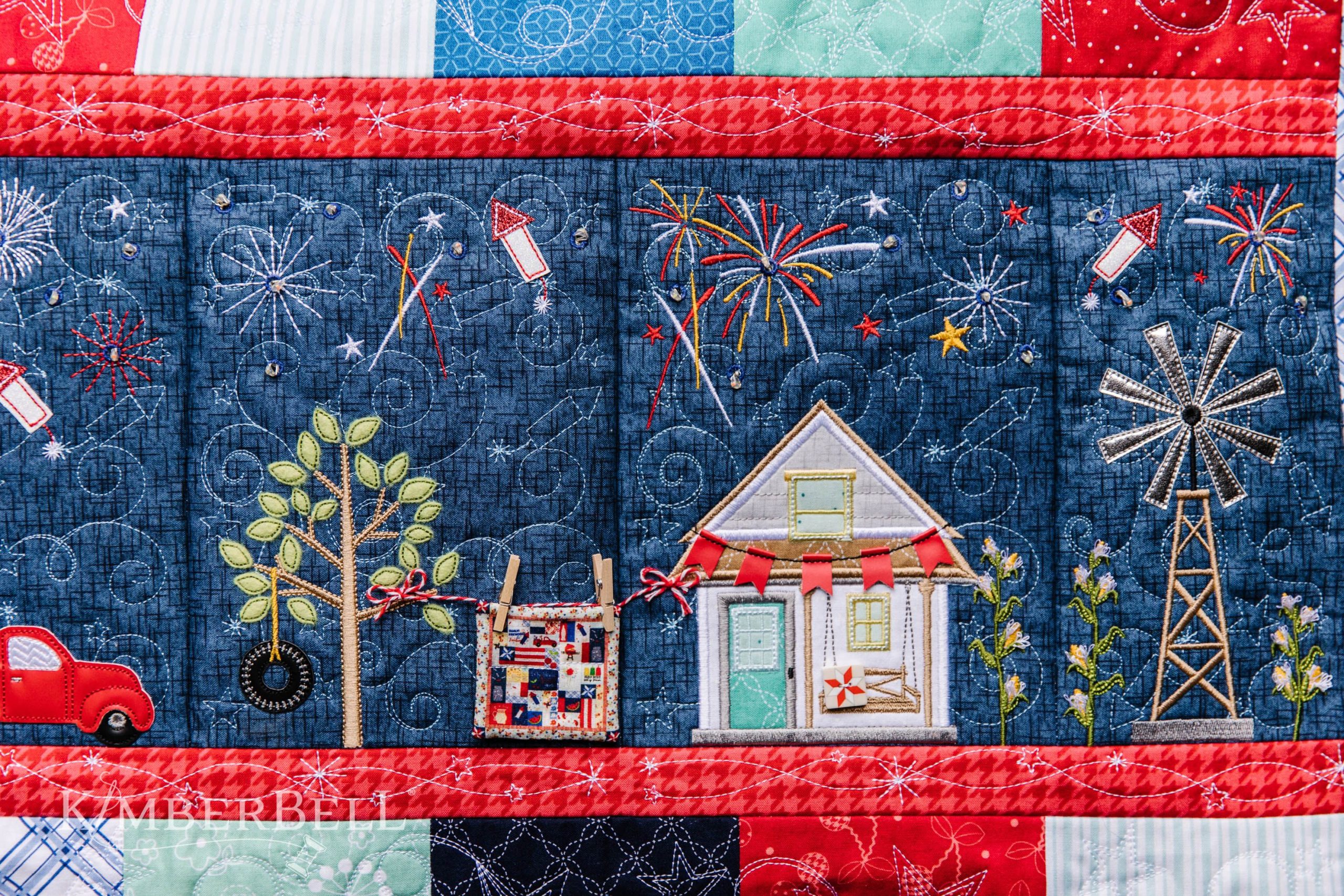 Rosie's love for agriculture started at a young age. "Being a rancher can be a roller coaster of emotions," Rosie explains. "There are many variables we have no control over, such as weather, feed costs, and market value. We pour our hearts into caring for our crops and cattle, so there is a huge emotional commitment. But the most rewarding thing is teaching my children about hard work, family tradition, and valuing our natural resources."
Deanna agrees. "The best part of being a rancher is the time spent with family, instilling values and a hard work ethic in the kids as they grow up." Deanna's husband is also a firefighter, "The Fourth of July is a busy day for us," Deanna says. "The firemen sponsor a community breakfast and do all the cooking. Then we get to ride on the fire trucks in the parade–and our hometown parade is one of the best parades around! At night, the firemen set up a big fireworks show. The department is like a family, and everyone is there for each other." 
"A community is a powerful entity that can accomplish amazing things," agrees Cole. "I have seen how friends and neighbors can come together to help one another in a time of need. No matter where I've lived,  I've always loved coming back to my hometown to enjoy parades, fireworks, and the fair and rodeo. These events have created a lot of good memories for my family and me over the years."
"Being born and raised in my hometown, and now raising my children here, means community is part of our daily life," Rosie continues, "My favorite part of our Independence Day celebration is watching the fireworks and reflecting on the freedoms so many have sacrificed for us to have."
Your Story
For us at Kimberbell, Main Street Celebration is so much more than a decorative Bench Pillow; it's a heartfelt tribute to the businesses and homes and good, honest people who build our lives. So, you see, from porch swings and pickups to quilts on a clothesline, Main Street Celebration isn't Kimberbell's story; it's yours. 
Thank your community first responders, teachers, healthcare workers, business owners, truckers, farmers, or friends with our FREE, printable card inspired by Kimberbell's Main Street Celebration and coordinating Red, White, & Bloom quilt!
Printable "Thanks For All You Do" Card