Are you hosting a baby shower? If so, you're wondering what to serve as refreshments…am I right? 🙂
Here are three recipes you and your guests will simply "drool" over:
1. Lil' Sprout Cucumber Sandwiches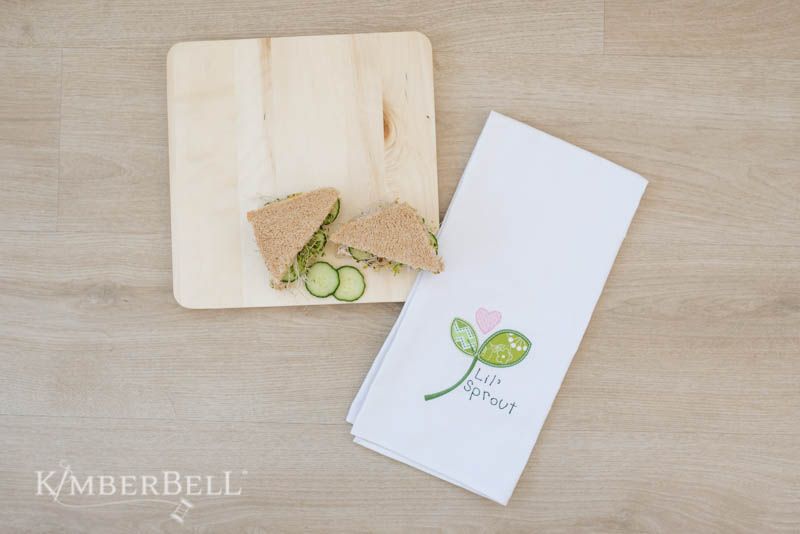 Inspired by Kimberbell's Lil' Sprout Baby Appliques & Burp Cloths
Ingredients
2 slices whole grain bread (your favorite kind)
Spreadable garden vegetable cream cheese (to taste)
1/3 cup thinly sliced English cucumber
1/2 cup alfalfa sprouts
Thinly sliced sweet onion (optional)
Dijon mustard (to taste)
Coarse salt and pepper (to taste)
Directions
Spread one slice of bread with the softened cream cheese.
Spread mustard over the other slice of bread.
Arrange sliced onions (if desired) over the cream cheese, followed by cucumbers, salt & pepper, sprouts, and the other slice of bread.
Gently press the sandwich together and slice diagonally.
Remove crusts from bread (if desired)
2. Love You to the Moon Pies (Cookies)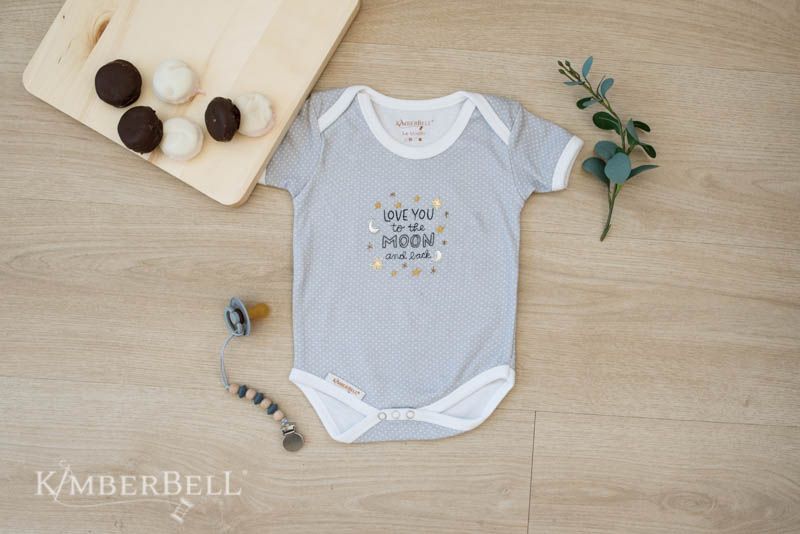 Inspired by Kimberbell's "Love You to the Moon and Back" from The Snuggle is Real: Petite Appliques
Stitched on Kimberbell's premium koala grey Baby Bodysuit
Ingredients
1 cup real butter (no substitutes!)
1 cup sugar
1 extra-large egg
1 1/2 tsp. pure vanilla extract
3 cups flour
1 1/2 tsp. baking powder
1/2 tsp. salt
1 jar marshmallow creme
1 package almond bark (vanilla or chocolate candy coating)
Directions
Cream butter and sugar until light and fluffy, then add egg and vanilla extract. Mix.
In a separate bowl, combine flour, baking powder, and salt. Whisk. Slowly add dry ingredients to butter/sugar mixture and mix to combine.
Chill dough for 30 minutes in refrigerator.
Preheat oven to 350 degrees.
Roll dough into 1″ balls and space evenly on cookie sheet lined with parchment paper.
Press down lightly to flatten balls into disks.
Bake for 8-10 minutes until bottoms are lightly browned. Remove and allow to cool completely.
When cookies have cooled, spread a dollop of marshmallow creme between two cookies to make a cookie sandwich.
Cool in refrigerator to set for about 30 minutes.
Melt almond bark in microwave on medium heat, stirring after every 30 seconds until completely melted.
Dip cookies in the melted almond bark and allow to harden.
3. Little Squirt Infused Waters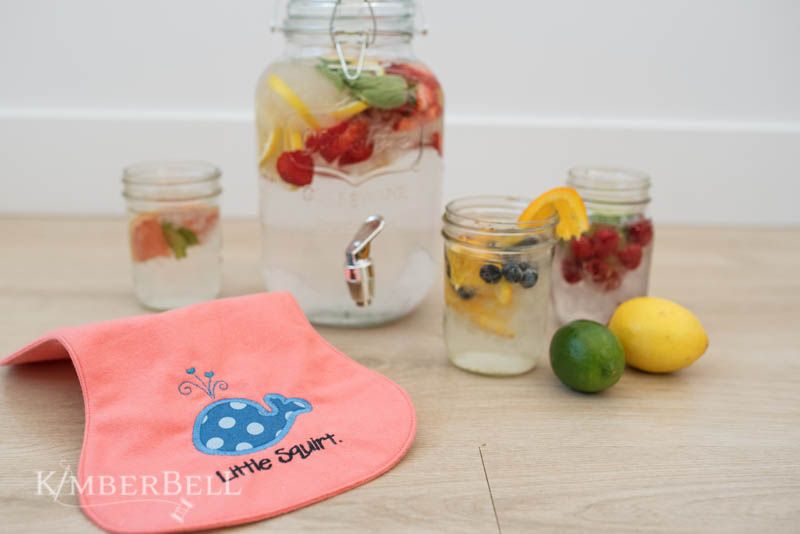 Inspired by "Little Squirt" from Kimberbell Little Ones, Vol. 1: Born to be Wild
Burp Cloth made from Lil' Sprout Baby Appliques and Burp Clothes
Fruit-infused water is light, delicious, and absolutely perfect for baby showers! Here are a few of our favorites from the Kimberbell kitchen:
Grapefruit & Rosemary
4 cups water
Ice
1/4 red or pink grapefruit, cut thinly
1 large sprig fresh rosemary
Raspberry & Mint
4 cups water
Ice
1/4 cup fresh raspberries
1/4 cup fresh mint leaves
Blueberry & Orange
4 cups water
Ice
1/4 cup fresh blueberries
1/2 orange, cut thinly
Strawberry & Lemon
4 cups water
Ice
2-3 strawberries, hulled and sliced
1/2 lemon, sliced thinly
Cucumber Mint
4 cups water
Ice
1/4 cucumber, sliced thinly
1/4 cup fresh mint leaves
Lemon & Lime
4 cups water
Ice
1/2 lemon, cut into slices
1/2 lime, cut into slices
Strawberry, Kiwi, & Lime
1 kiwi, peeled and cut into slices
2 strawberries, hulled and cut into slices
1/2 lime, cut into slices
We're all about fruit-infused water at Kimberbell. 🙂 I hope these ideas spark your culinary creativity as you plan that perfect baby shower menu! Find the Kimberbell baby designs shown above (plus so much more!) at your favorite quilt shop.
Oh…and don't forget to download your FREE design HERE!