Have you heard the buzz about a Jingle All the Way Embellishment Kit? If so, you might be saying, "What's Jingle All the Way? Is this a new quilt, or maybe a Bench Pillow?"
Actually, Jingle All the Way is an older Kimberbell feature quilt that came out a few years ago. And because it was (and is!) so timeless and classically Kimberbell, we decided to release an embellishment kit so you can take Jingle All the Way…well, all of the way.
Let's take a look at some of the Christmas surprises found in this delightful patchwork quilt!
The Quilt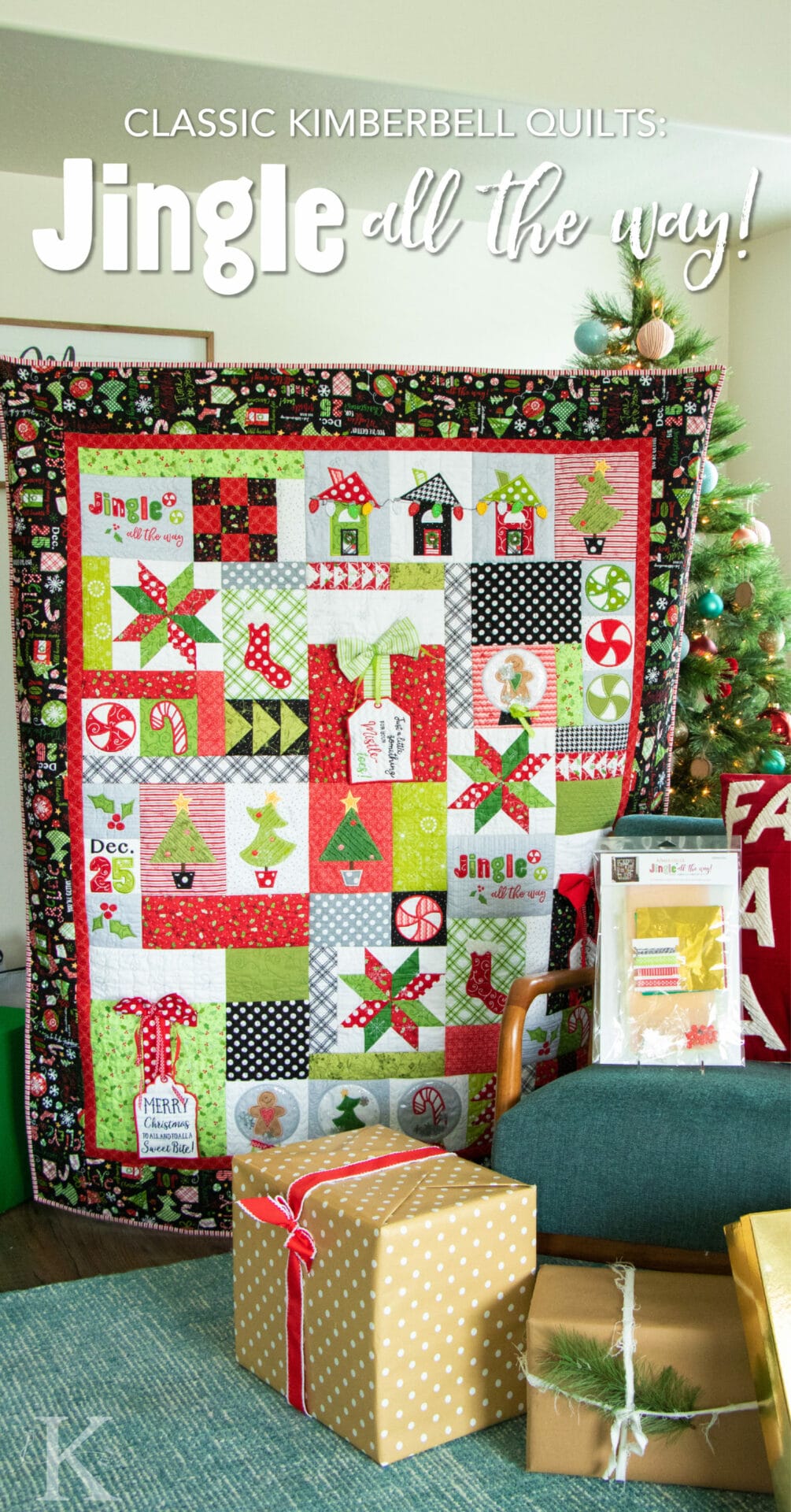 Mylar lights line the rooftops of applique houses, while fringed wreaths adorn every door. Pretty presents, with dimensional gift tags, are topped with ribbon bows. Christmas trees feature chenille stitches and festive ornaments, and LeMoyne stars, applique candy canes, and peppermint twists are sweet emblems of the season! Four enchanting snow globes, with clear Vinyl "glass" and sequin "snow," surround a variety of holiday designs, including gingerbread, a candy cane, and a whimsical Christmas tree. With stockings, patchwork squares, flying geese, and more, Jingle All the Way is a wonder-filled way to deck every hall!
The Embellishment Kit

So, what can you anticipate receiving in the Jingle All the Way Embellishment Kit? We've bundled everything you need to make your quilt shine, including Sweet as Candy Clear Vinyl, Twine, Mylar, ribbon, tulle, buttons, seed beads, sequins, and even Kimberbell Flexi Foam for added dimension!
And "Oh, what fun it is…." to add those little details that make your project pop!
Find Kimberbell's Jingle All the Way Embellishment Kit, the sewing version, AND the machine embroidery version at your favorite quilt shop! (We ho-ho-hope you Experience the Joy of Creativity™ every step of the way!)