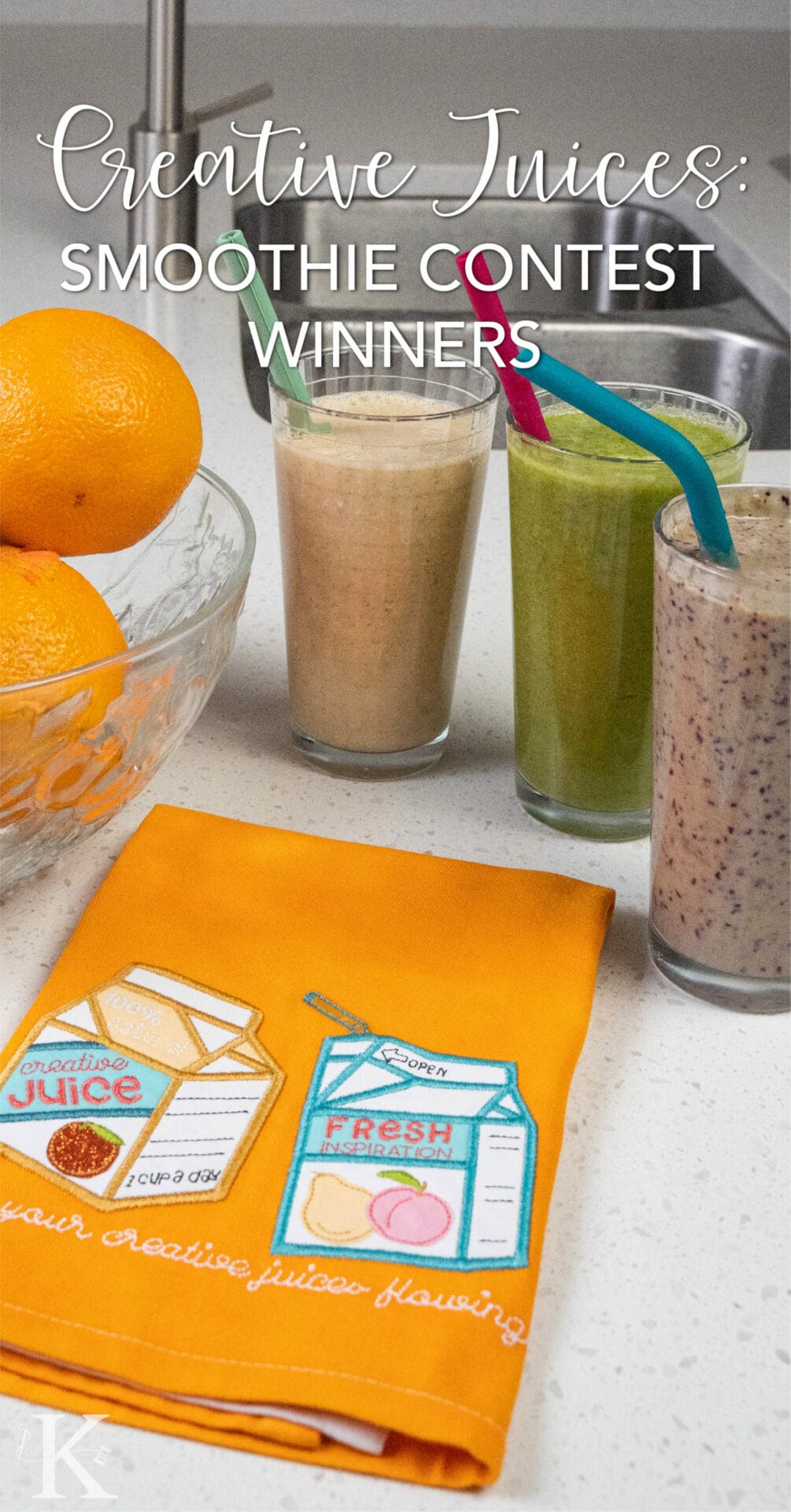 Cool, frothy, and delicious, nothing beats a summer smoothie. (And what better way to get your "creative juices" flowing than drinking actual creative juice?)
In preparation for the Live Creatively Bella Box, Kimberbell held a smoothie competition to find the best creative juices. It was an exciting day, with whirring blenders, tasty samples, and tallied votes. And at the end of the day, the winning recipe was…
Drumroll, please…
Green Goodness, submitted by Kimberbell's senior graphic designer, Jasmine! This smoothie won the coveted "Creative Juices" title and the recipe is featured exclusively in the Live Creatively Bella Box.
BUT what about the other recipes in the competition?  Each was uniquely delicious, so we wanted to share those recipes with you here:
Blueberry Avocado
Submitted by Jenn C., Office Manager
Ingredients
1 cup blueberries (frozen or fresh)
1 cup strawberries (frozen or fresh)
½ banana
½ large avocado
1 cup spinach
½ cup lowfat Greek vanilla yogurt
1 Tbsp. flaxseed meal
1 Tbsp. honey
1 cup almond milk (can replace with regular milk or coconut milk)
Directions
Mix all ingredients in a blender and enjoy!
Peanut Butter Powerhouse
Submitted by Erin R., Product Manager
Ingredients
1 cup  unsweetened vanilla almond milk
½ frozen banana
1/3  cup oats (adds thickness)
Heaping scoop of vanilla protein powder
1-2 Tbsp. smooth peanut butter
Directions
Blend until smooth!
Smoothie Verde
Submitted by Liz B.,  Production Supervisor
Ingredients
2 cups. water
2 handfuls fresh spinach
2 Tbsp. frozen orange juice concentrate
1 banana, fresh or frozen
1/2 cup pineapple, fresh or frozen
1/2 cup any other fruit of your choice, fresh or frozen
Directions
Blend all ingredients 2-3 minutes or until well blended.
Please enjoy these creative juices, along with the fresh and fabulous projects in Kimberbell's Live Creatively Bella Box!