As roses are red and violets are blue,

 The Garden Guild is just waiting for YOU!
Ready for your embroidery skills to blossom and grow? Join The Garden Guild, Kimberbell's one-day machine embroidery event! Now, some shops are hosting this event in person, some virtually, and some are doing a combination of both. Find a participating certified shop today through our Event Locator!
Let's take a closer look at the event's three unbe"leaf"able projects: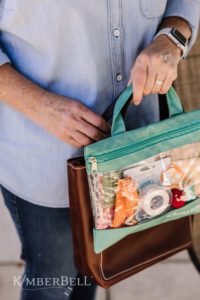 Aren't those darling? Kimberbell Events are a blast for everyone involved. There's something so uplifting about gathering with other machine embroidery enthusiasts, be it virtually or in-person, and working on the same projects at the same time. Your instructors walk you through every single step, teaching helpful tips along the way. And since the projects include a variety of techniques and products, events are a satisfying way for both new AND seasoned embroiderers to Experience the Joy of Creativity™ together.
Now, when you attend a Kimberbell Event, your shop will give you the Event Kit, which includes everything you need to make the projects: Kimberbell Paper Tape, precut fabrics, Kimberbellishments, Kimberblanks, your event lanyard and collectible pin, and full-color, step-by-step instructions.
With everything cut, packaged, labeled, and ready to go, there's a whole lotta fun packed into one little bag!
Let's take a look at each bloomin' project, including some of the techniques and products used:
Machine Embroider by Number: Pieced Bloom

Kimberbell's Machine Embroider by Number: Pieced Bloom features cheerful Kimberbell Mini Bouquets: Vintage Blooms, each with a center as Cute as a Button. Create your event project in a 6×10 hoop with crosshatch quilting and optional ribbon loops, then go home with additional sizes for 4×4, 5×7, 8×12, and 9×14 hoops! From placemats to pincushions, this delightful design is sure to bloom wherever it's planted. 
"You Look Radishing" Zipper Pouch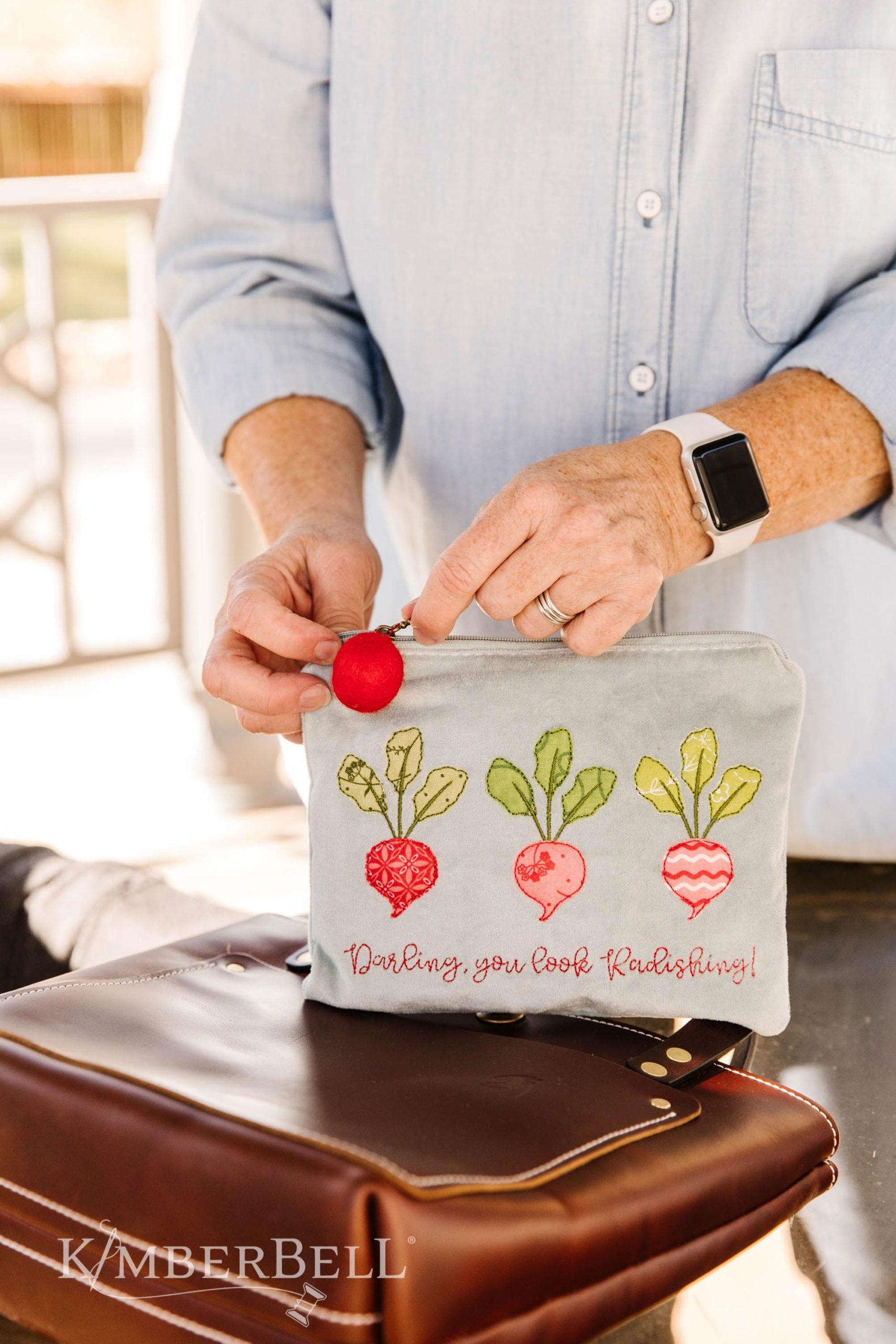 Crisp colors and a sassy sentiment combine in a simply "radishing" project!  Kimberbell's "You Look Radishing" Zipper Pouch is easy to hoop and embellish with a sewn-in zipper and serged, open side seams. Stitch three applique radishes in a 5×7 hoop with a slice of dimensional Flexi Foam Kimberbell Stabilizer, sew up the sides with a simple straight stitch, and top the vintage zipper pull with a crimson Wool Felt Ball. An additional size for a 6×10 hoop is also included! 
"Wet My Plants" Mat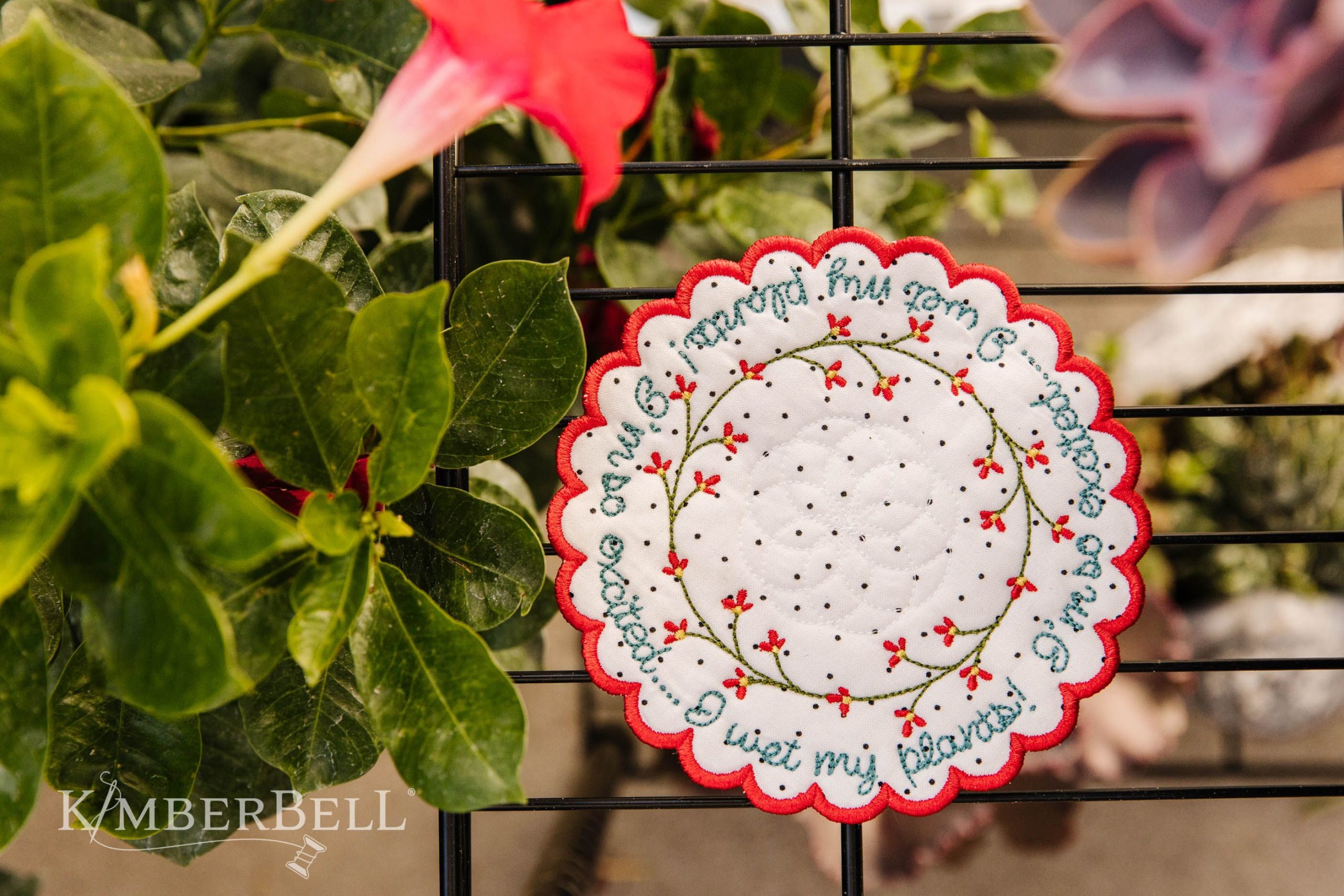 Made entirely in a 6×10 hoop, Kimberbell's "Wet My Plants" Mat is perfect for pots, plants, and more. Stitch your mat with dimensional Flexi Foam Kimberbell Stabilizer, a quilted floral motif, and a whimsical wreath of blossoms and buds. Then add "I'm so excited….I wet my plants!" framed by scalloped satin stitches. With an additional size available for an 8×12 hoop, our "Wet My Plants" Mat is delightful decor for everyone who loves both sewing and "sowing." 🙂 
For the Love of Gardening: Kimberblank Appliques Bonus CD
Now, one of the perks of attending a Kimberbell Event is the opportunity to earn the event's exclusive bonus CD! This is how it works: when an attendee spends $100 (or more) in the Kimberbell Pop-up Shop while at the event, they earn the FREE bonus CD, which you simply can't get anywhere else. (Your shop will explain the details of how to qualify!)
The Bonus CD for The Garden Guild is…drumroll, please…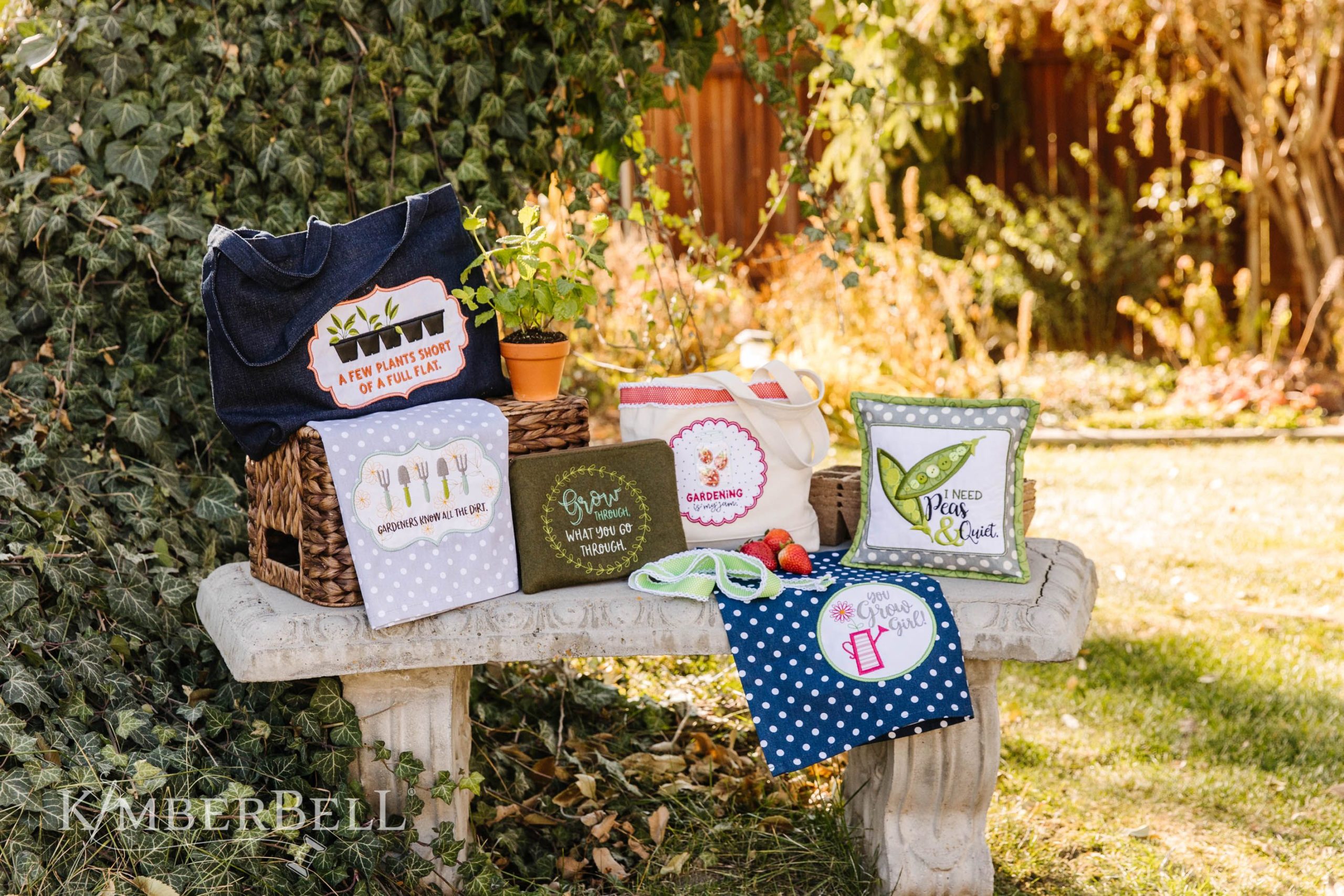 For the Love of Gardening: Kimberblank Appliques! Six garden-themed designs come in sizes for 5×7 and 6×10 hoops, including:
"

You Grow Girl

"

"Gardeners Know All the Dirt"

 

"Grow Through What You Go Through

"

"

Gardening Is My Jam"

"I Need Peas & Quiet"

"A Few Plants Short of a Full Flat"
Embellish Zipper Pouch Blanks, Totes, Tea Towels, and Aprons with Cute as a Button(s), Crocheted Edge Trim, and sparkly Applique Glitter!  Here's a closer look:
You might say that For the Love of Gardening is a cut above the rest. 😉 Find The Garden Guild and other Kimberbell Events today through our Event Locator! (You're sure to have a good "thyme.") 🙂