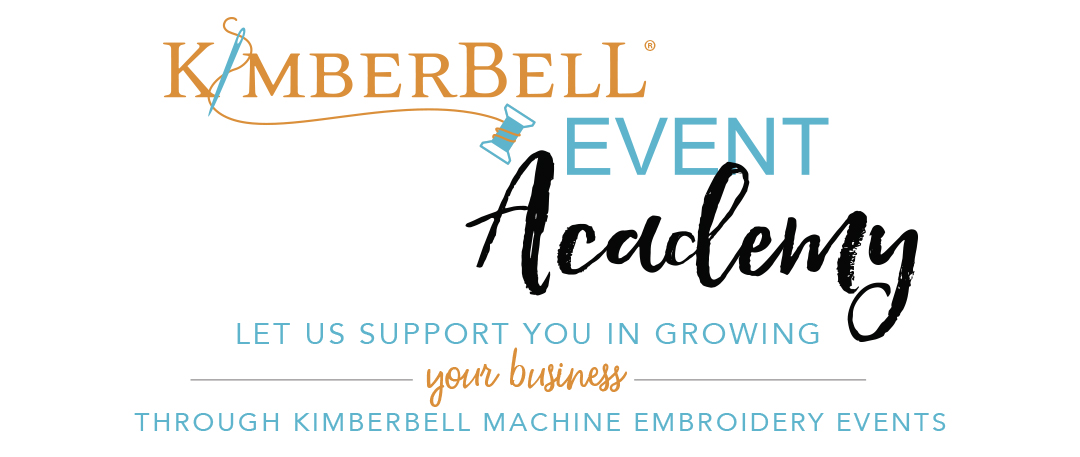 Applications are open to shop owners, managers, embroidery class instructors, and employees who sell embroidery machines. Is there a Kimberbell fan on your staff?
Or, Continue reading below to learn more.
Why Attend Kimberbell Event Academy?
Become certified to host Kimberbell Events for your customers with exclusive event projects.
Learn the Kimberbell model for organizing and promoting machine embroidery events.
Discover simple and subtle techniques for selling products and machines, while teaching new skills.
Receive the Kimberbell Event Academy Binder with our Event Planning Guide which includes all the details and checklists for hosting events for your customers.
Network with other shops and bolster both the creative and administrative aspects of your business.


After participating in our event model, you will be prepared to present an exclusive collection of Kimberbell projects. Your customers will love the quality of our event projects and the variety of events to choose from. And, all of the adorable projects can be completed during the event! Kimberbell Academy also has business segments, including unique and proven, low pressure ways of selling embroidery machines and products.
Only Kimberbell CERTIFIED SHOPS can host our exclusive events. We will continually add more events with both one day, two-day, and spark (4 hour event focused on entry level machines) options, which you can host for your customers as often as you like!
An event with Kimberbell Designs is a fantastic opportunity to introduce new customers to machine embroidery and increase rapport with current embroidery enthusiasts.
We provide an exclusive event project bag with Kimberbell fabric kits, all the embellishments, design CD, printed full-color instructions, and more.
To increase the profitability of your event, we send a Kimberbell Popup Shop on consignment with special event pricing.
The only cost to you is the initial purchase of the specific event Instructor Kit for $99. Your Instructor Kit includes a complete Event Project Kit to make the event projects for display in your shop. Plus, PowerPoint presentations for teaching at your event.
You also receive professional marketing materials and promotional support from Kimberbell with digital files for printing posters and invitations, plus photos and graphics for social media, emails, newsletters, website, and more!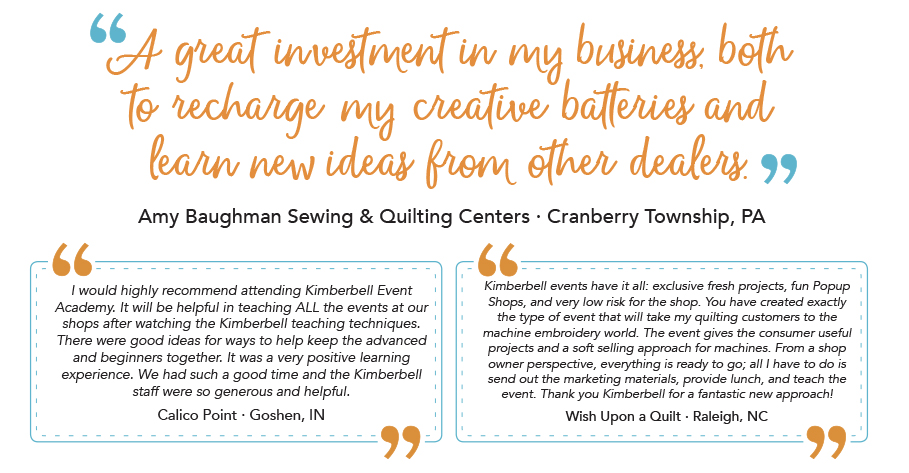 2021 Dates:
Feb 24-25
March 25-26
March 29-30
June 2-3
June 7-8
Sept 1-2
Sept 8-9
Cost: $399/person
Price includes all supplies for projects taught at the Academy, an official Academy Binder, training, swag bag, two lunches, snacks and so much more!
Bring a Friend: Other attendees from your shop may come for a savings of $50 for each additional registration. Registration includes an invitation link and a package with materials. Additional members of your staff (up to 3) may listen in for free but will not receive the package of materials.

Apply online to reserve your place at our next Academy. Sessions fill quickly!