If you're a DIYer, you know that saying, "I made this for you" is the same as saying, "I care about you." That's why Kimberbell offers embroidery blanks called "Kimberblanks" for a variety of projects, including machine embroidery, sewing, iron-on transfers, cross-stitch, monograms, hand embroidery…you name it! These are ready-made items, ready to embellish however the "blank" you want. 😉
Because from heartfelt gifts to home decor, it's your personal touch that brightens the world one project at a time. 
Let's take a look at some of our popular Kimberblanks and why they're a favorite with machine embroiderers, sewists, and DIYers everywhere.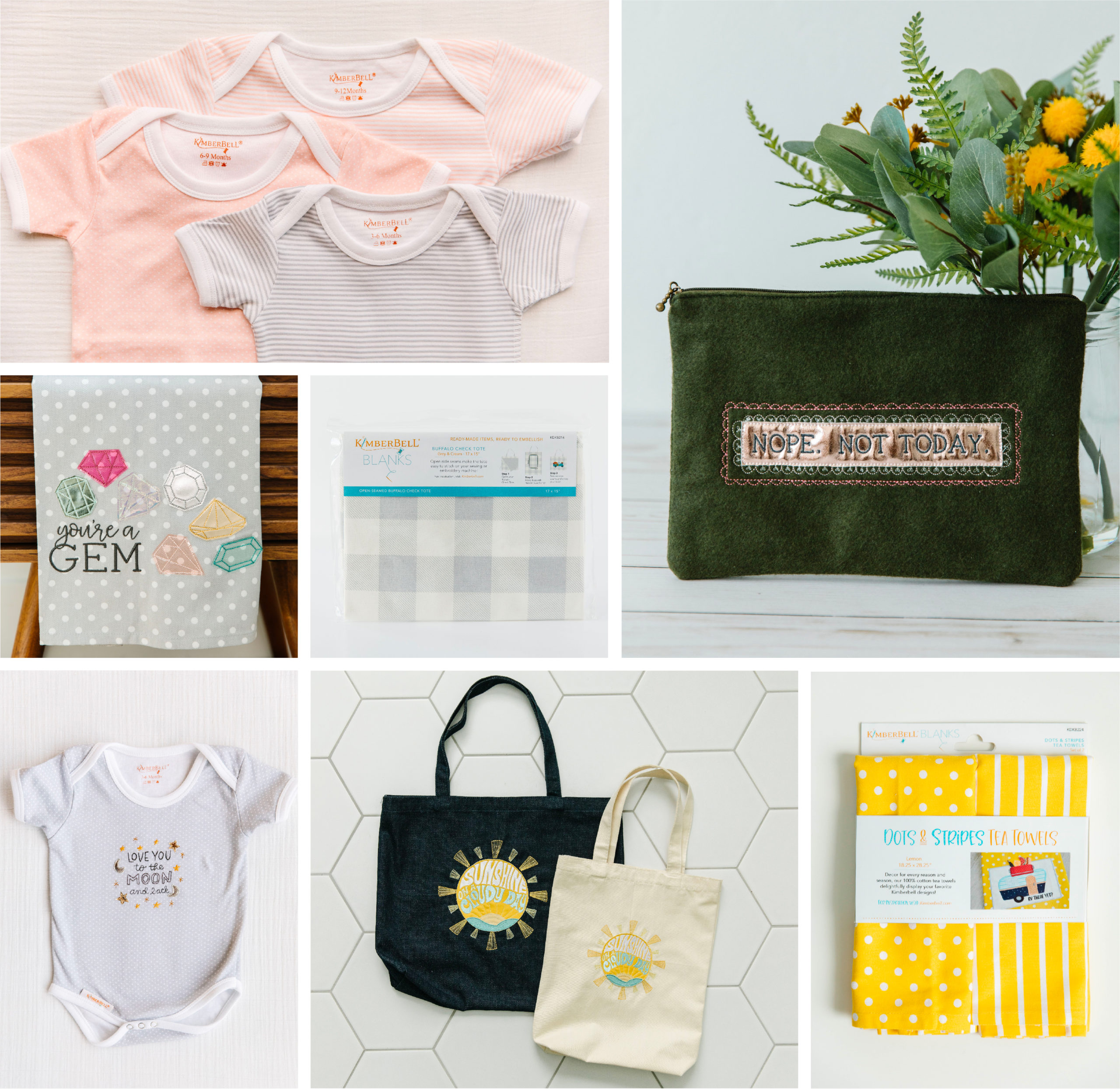 BABY BODYSUITS
Open Side Seams for Machine Embroidery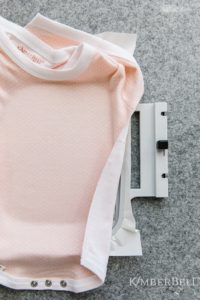 So let's say you're going to a baby shower and you want to monogram a Onesie for a personalized gift. Have you ever tried to hoop a Onesie for an embroidery machine? It's tricky! You either have to unpick the sides OR slip the bottom hoop through the Onesie (so the part that attaches to the machine sticks out the neck or the bottom), and roll the excess fabric out of the way. You then have to clip the fabric down so it stays out of the way and rotate the design 90 degrees so it stitches out correctly on the now hooped-and-sideways Onesie. All of this is doable, of course, but it's so much harder than it could be…
…on a Kimberblank. Namely, our Baby Bodysuits.
Baby Bodysuits have serged, open side seams, making them SO easy to hoop! No need to go through the neck, roll up all of that excess fabric, somehow clip it all down, and rotate the design—nope, none of that. With Kimberbell's Baby Bodysuits, you can just slip the hoop through the already-open side OR float the top of the bodysuit on a hooped piece of Kimberbell's Sticky-Back Tear-Away! Once you've added your design (not sideways, thank you very much) just turn the bodysuit inside out, sew up that open seam with a simple straight stitch, and voila!  SO. MUCH. EASIER.
Open Side Seams for Sewing, Iron-On Transfers, and Other Crafts
This feature isn't just convenient for embroidery machines, my friends. Because you can open a Baby Bodysuit and lay it flat, they're also easy to maneuver under sewing machine needles as well. And iron-on transfers? So simple to flip the front open and iron your design on that top layer before stitching up the side! There are so many possibilities with these giftable baby blanks, especially considering the thick, soft quality of the fabric itself. Heavenly!
But Baby Bodysuits are just one of our many Kimberblanks. Read on! 
ZIPPER POUCH BLANKS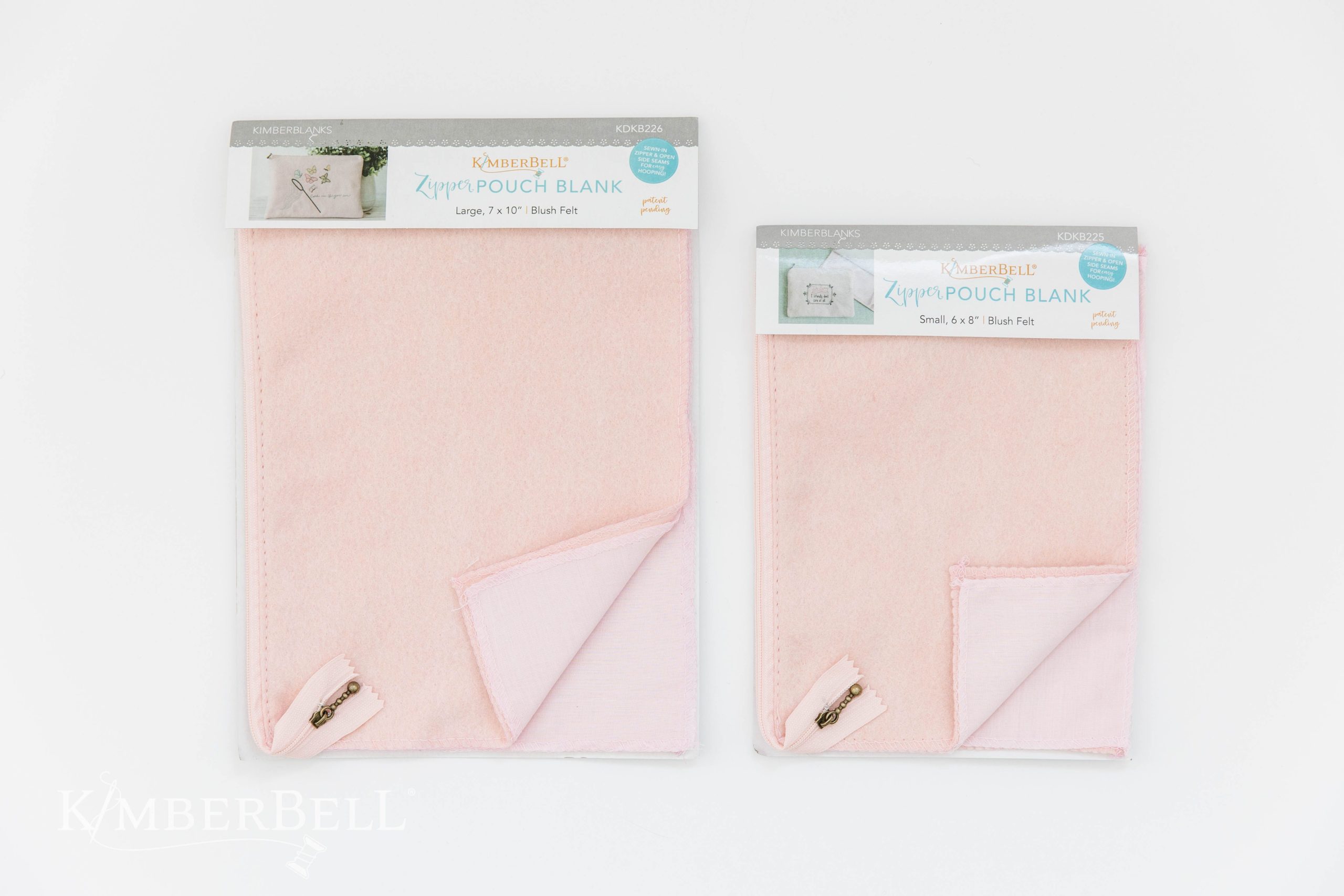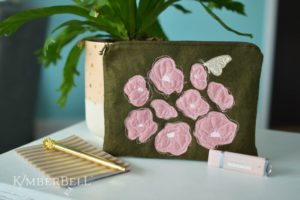 Take our Zipper Pouch Blanks, for example. Not only do they also have serged, open side seams (along with all of the benefits described above), they also have a sewn-in zipper! (How handy is that?) You embellish the front however you want, sew up the sides, trim the zipper, and end up with a pouch to be proud of.
Zipper Pouch Blanks come in small and large sizes in two fabric choices: luxurious velveteen and soft felt. Velveteen colors include Dusty Teal, Mustard, and Navy; felt colors include Blush, Olive, and Heather Gray. 
For more about our Zipper Pouch Blanks, check out this Tuesday Tips with Kimberbell!

TOTES
I don't know about you, but I have a lot of bags in my life:  my library bag, my church bag, my work bag, my beach bag, my road trip bag, those unsightly bags under my eyes…wait, we're not going there. 🙂 But from diaper bags to grocery bags, I think it's fair to say that most of us tote a lot of totes around from day to day!
Kimberbell has a variety of blank totes to choose from: Canvas, Denim, and two colors of Buffalo Check Totes. Again, these have open side seams so they're super easy to personalize with embroidery designs, monograms, iron-on transfers, etc.! If you're looking for a machine embroidery project for beginners, Kimberbell Totes are a great place to start. 
TEA TOWELS, PILLOW FORMS (AND PSSST!) MORE COMING SOON…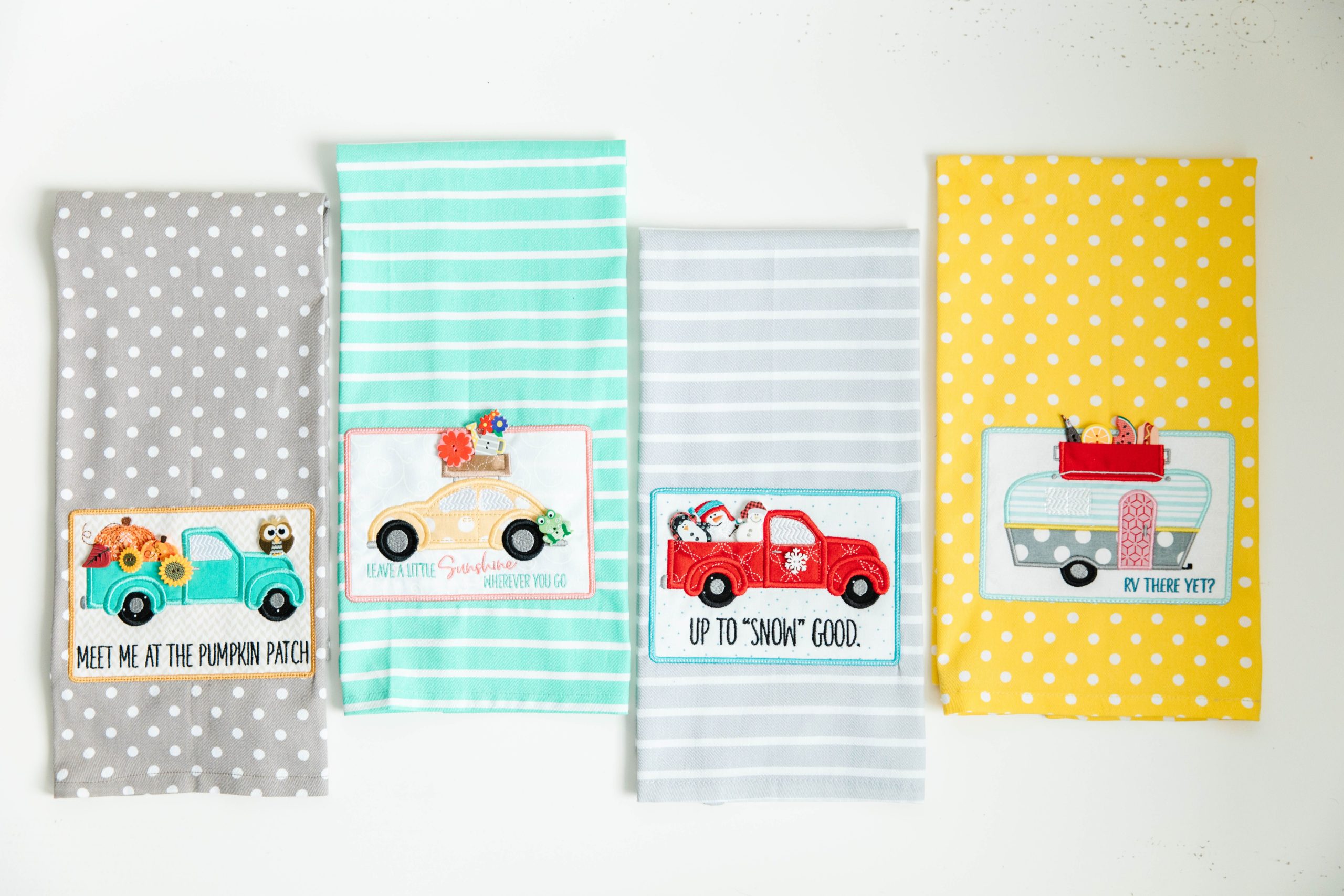 Whether you're making the perfect gift or spicing up your home decor, we've got a Kimberblank for you. Let's look at our Tea Towels, for instance, available in a variety of bright and beautiful colors. Tea Towels make wonderful neighbor gifts, especially when given with a plate of cookies or warm loaf of bread. But that's not all! We also have Aprons, Pillow Inserts, and (drumroll, please…)
Something that may or may not be coming out soon that will absolutely blow your mind. But, to quote Forrest Gump, "That's all I have to say about that." (Until it's released, then I'll have PLENTY to say! Stay tuned.)
FILL IN THE BLANK!
Now, if you love to stitch (and if you're reading this post, I'm thinking you do), I encourage you to give Kimberbell's new Fill in the Blank Program a try! Each month, participating shops combine specific Kimberblanks with FREE, coordinating designs for both sewing and machine embroidery. So you simply buy the blank, then receive the exclusive design. That's it! And as Kimberblanks can be shipped and the designs emailed to you, don't worry if you don't have a participating shop close by. Just use our Store Locator to find your favorite. 
Let's take a look at some of the blanks and designs offered so far this year through our Fill in the Blank program:
March: Bunny Busket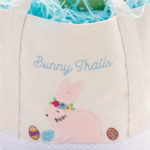 Question: What do you get when you cross a bucket with a basket? A busket, of course! 🙂
Kimberbell's March Fill in the Blank project transforms a Canvas Tote into an Easter basket perfect for egg hunts and picnics. Two designs, "Bunny Trails" and "Cotton Tails" are stitched on each side (either sewing or machine embroidery).
February: "Life is Short" Tea Towel
Deliciously paired with a pink ombré tea towel, Kimberbell's February Fill in the Blank design reminds us that "Life is Short. Eat the Cake." (Now that's a motto I can support!)  Applique layers are tastefully topped with an Embroidery Leather cherry and served on a vintage china plate. With decorative stitching and a sweet sentiment, this project is satisfying for both sewing and machine embroidery enthusiasts! 
January: "Sparkle" Tote


"Sparkle Like You Mean It" with glowing Fairy Lights and Applique Glitter! Kimberbell's January Fill in the Blank design is bright and beautiful on a limited edition chambray tote, with colorful applique blossoms and a banner of soft Embroidery Felt.
Again, our Sparkle Tote is available for both sewing and machine embroidery!
If you want to make these exclusive designs (and more to come every month!), contact your favorite quilt shop today and ask about Kimberbell's Fill in the Blank Program.
WHAT THE BLANK?
Kimberbell knows what embroiderers, sewists, crafters, and DIYers need and want. How? We are embroiderers, sewists, crafters, and DIYers ourselves! We know how important creating and personalizing and gifting are, and we know you're looking for ready-made blanks to work your magic with. Our own struggles with blanks on the market (How do you hoop those Onesies again?) have led us to develop innovative solutions for all of us. 
And that's what the blank (the Kimberblank!) is all about.