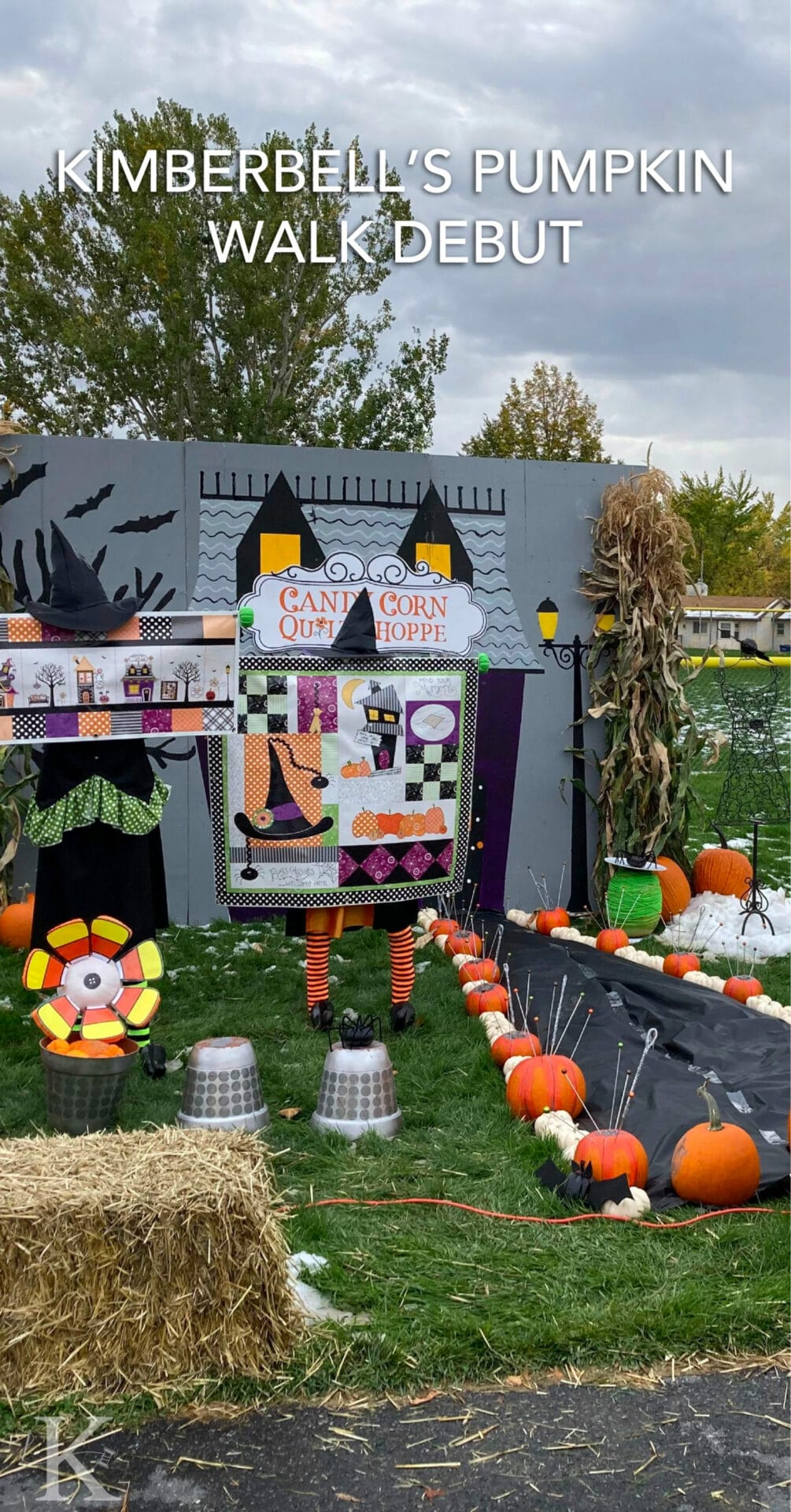 Last week, Kimberbell brought the Candy Corn Quilt Shoppe to the North Logan City Pumpkin Walk!
So…what is the North Logan City Pumpkin Walk?
The Pumpkin Walk
The Pumpkin Walk is a much-loved Cache Valley tradition. More than 60,000 people attend every year to walk the enchanting jack-o'-lantern paths, see the dozens of unique scenes, and eat the cookies passed out by the cute little witch. Each display is carefully crafted from painted pumpkins (and other harvest vegetables) to recreate  fairy tales, nursery rhymes, pop culture icons, and more!
In short, it's Experiencing the Joy of Creativity™ in a very pumpkin-y way. 🙂
For example…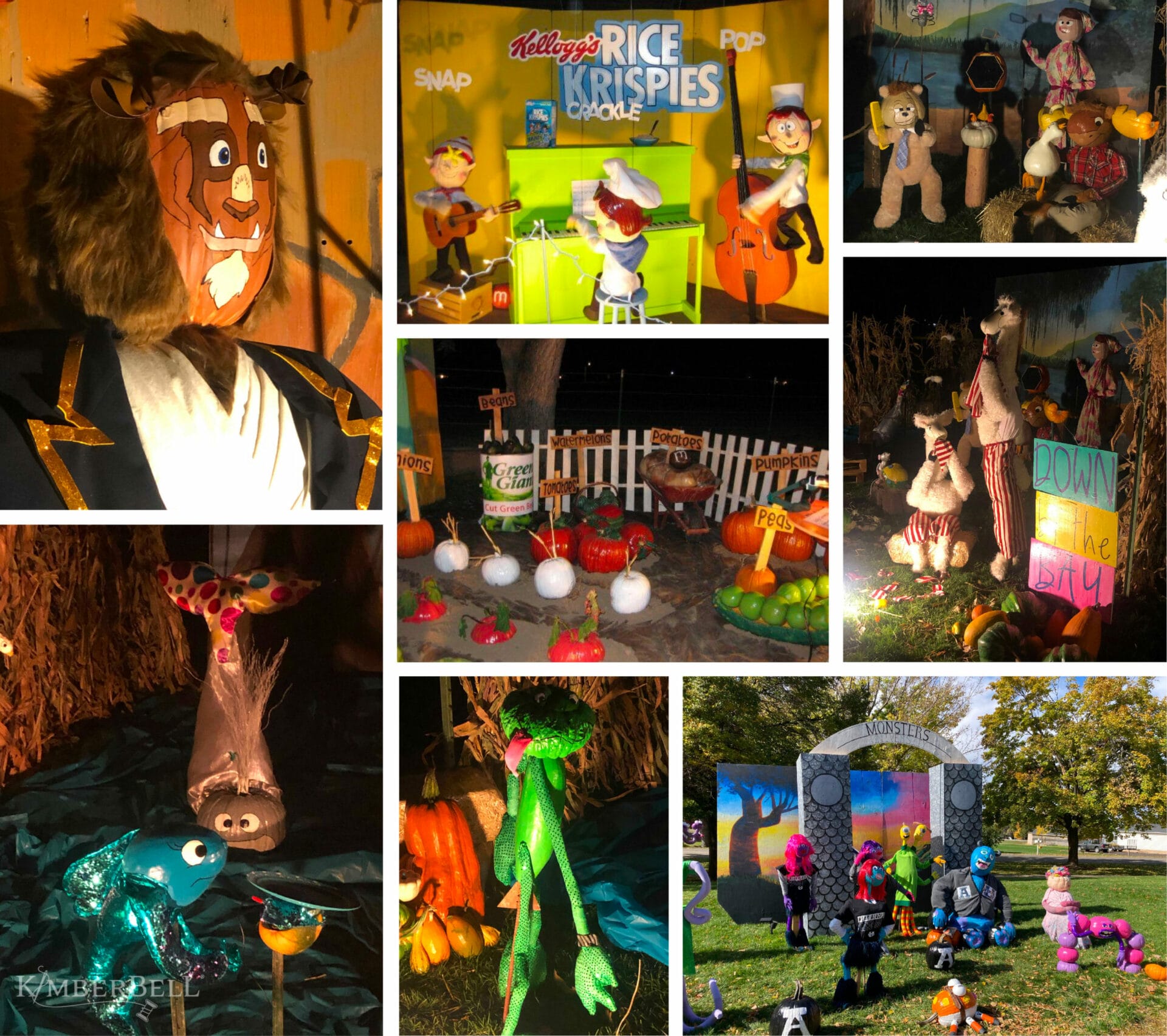 See what I mean? Lots of gourd-geous scenes. 🙂
And this year, the Candy Corn Quilt Shoppe was one of them!
"Pumpkinifying" The Candy Corn Quilt Shoppe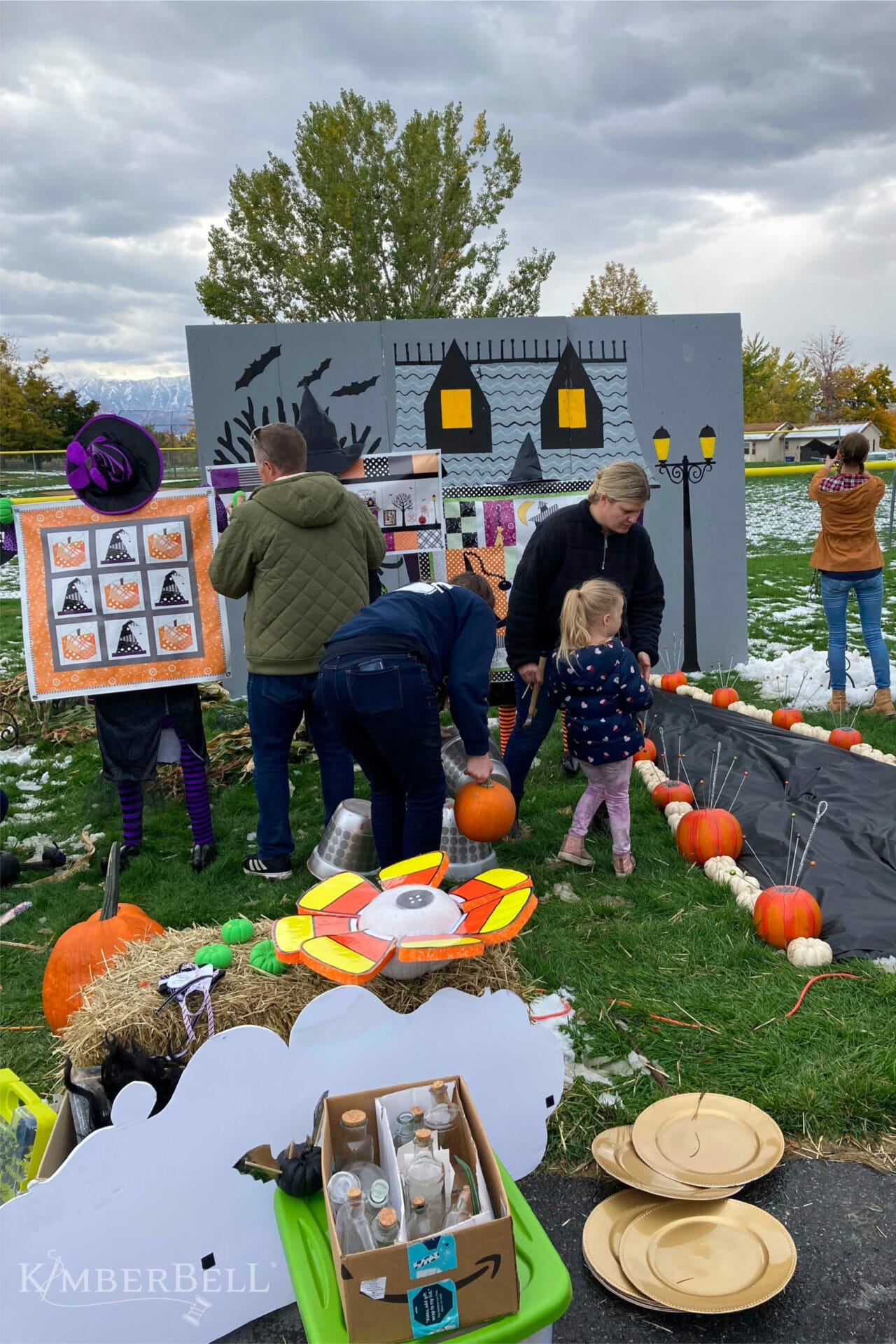 Building the Candy Corn Quilt Shoppe out of pumpkins was not only a team effort, it was also really wet and cold. We'd gotten an early snowstorm that week, so everything was just a little (well, a lot) soggy.
BUT, regardless of the weather, it was so much fun watching elements of the quilt come to (pumpkin) life. The witches, with curled-up gourd feet and tiny green pumpkin hands, held their M.E. by Number, Twilight Boo-levard, and Home is Where the Haunt Is projects through rain and shine. The scene also featured giant thread spools, pincushions, candy corn flowers, and a even a vintage sewing machine made of squash!
Ready to see the whole scene?
Drumroll, please…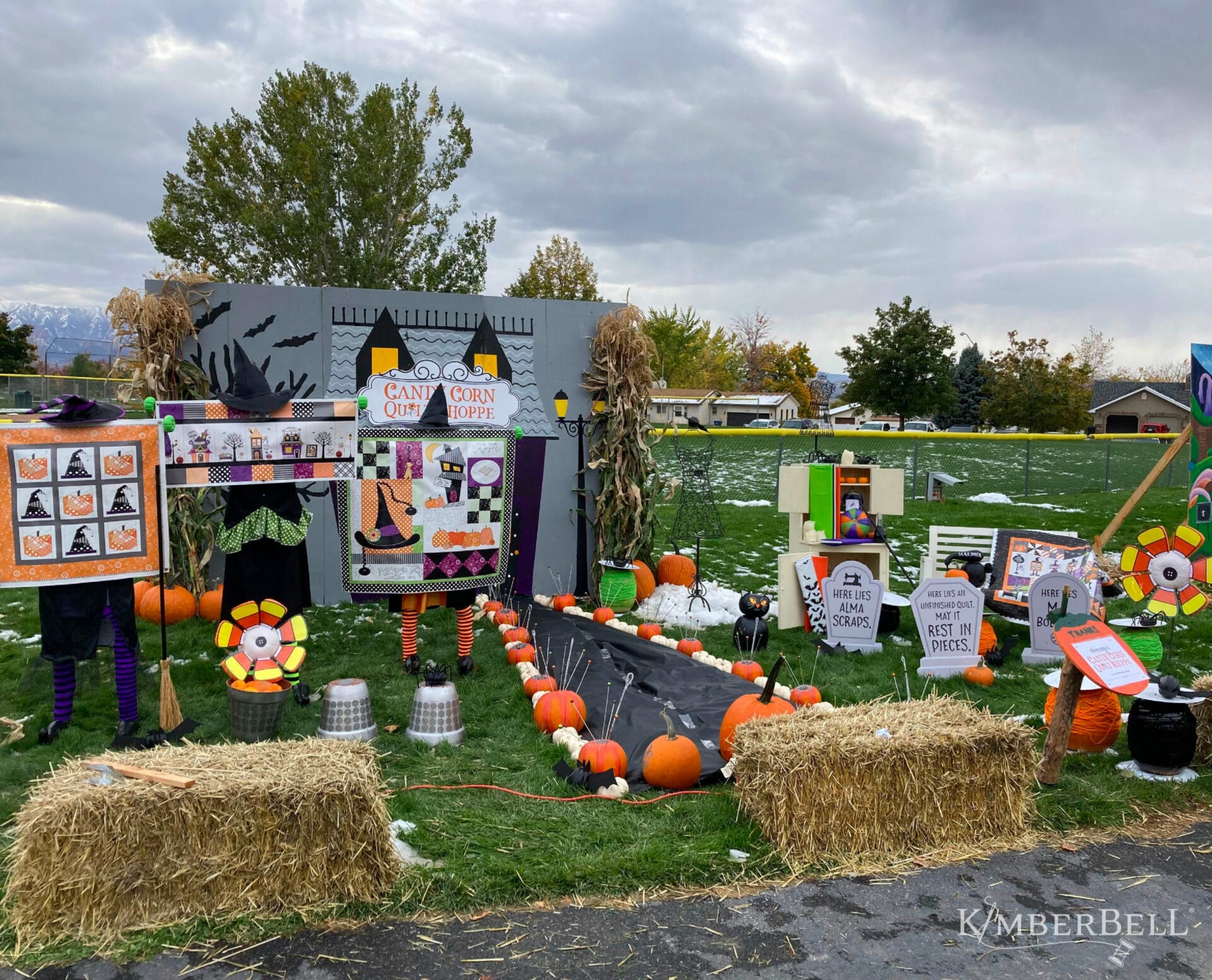 We thought it turned out pretty cute.
But as fun as it was setting up the display, it was even more rewarding attending the Pumpkin Walk with our families and hearing the comments of the crowd around us. Our scene sparked many conversations about sewing and quilting! We even overheard parents explaining to their children why an unfinished quilt would "rest in pieces." 🙂
All in all, I'd say Kimberbell's Pumpkin Walk debut was a grand success.
And speaking of pumpkins…
Welcome Home Pumpkin! (Kimberbell's October Fill in the Blank Design)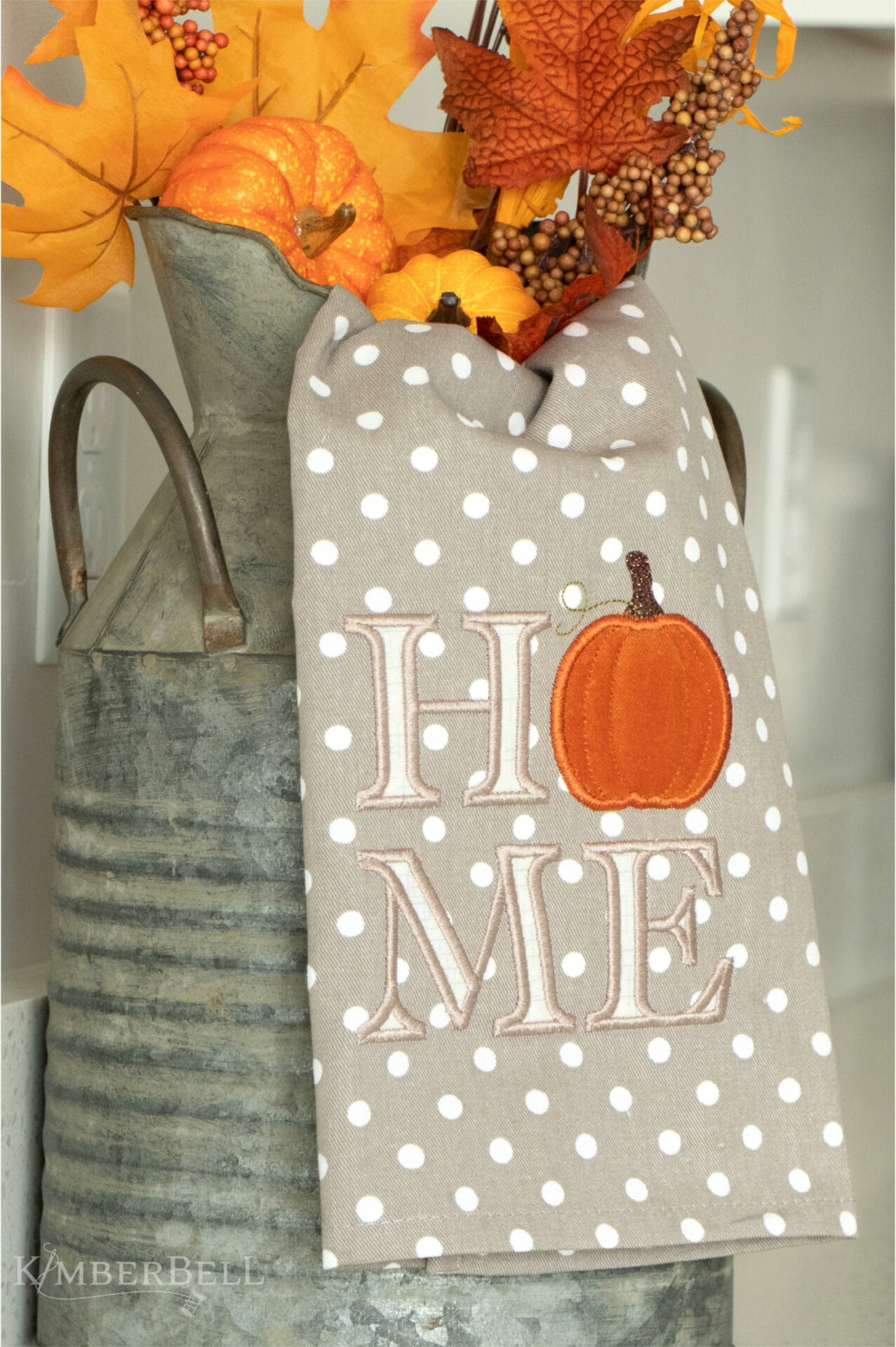 Kimberbell's October Fill in the Blank design is as fresh as a crisp autumn breeze! Stitch a classic pumpkin of Orange Spice Velveteen, or choose to add the jack-o'-lantern face for Halloween. A layer of Flexi Foam gives just the right poofiness to the pumpkin, topped with a sparkling stem of brown Applique Glitter. Available for both sewing and machine embroidery, Welcome Home Pumpkin is stitched on Kimberbell Tea Towels for home decor you'll "fall" in love with.
Fill in the Blank
Have you discovered Kimberbell's  Fill in the Blank projects? Each month, participating shops offer a specific Kimberblank such as Kimberbell Tea Towels. When you purchase the blank, the shop will share the exclusive Welcome Home Pumpkin design with you for FREE! 

Shops ship the blank and share the free design via email, so don't worry if you don't have a participating shop close by. Use our store locator to find a Fill in the Blank shop today and ask about the techniques, designs, and blanks available every month!
Happy Halloween from your friends at Kimberbell!