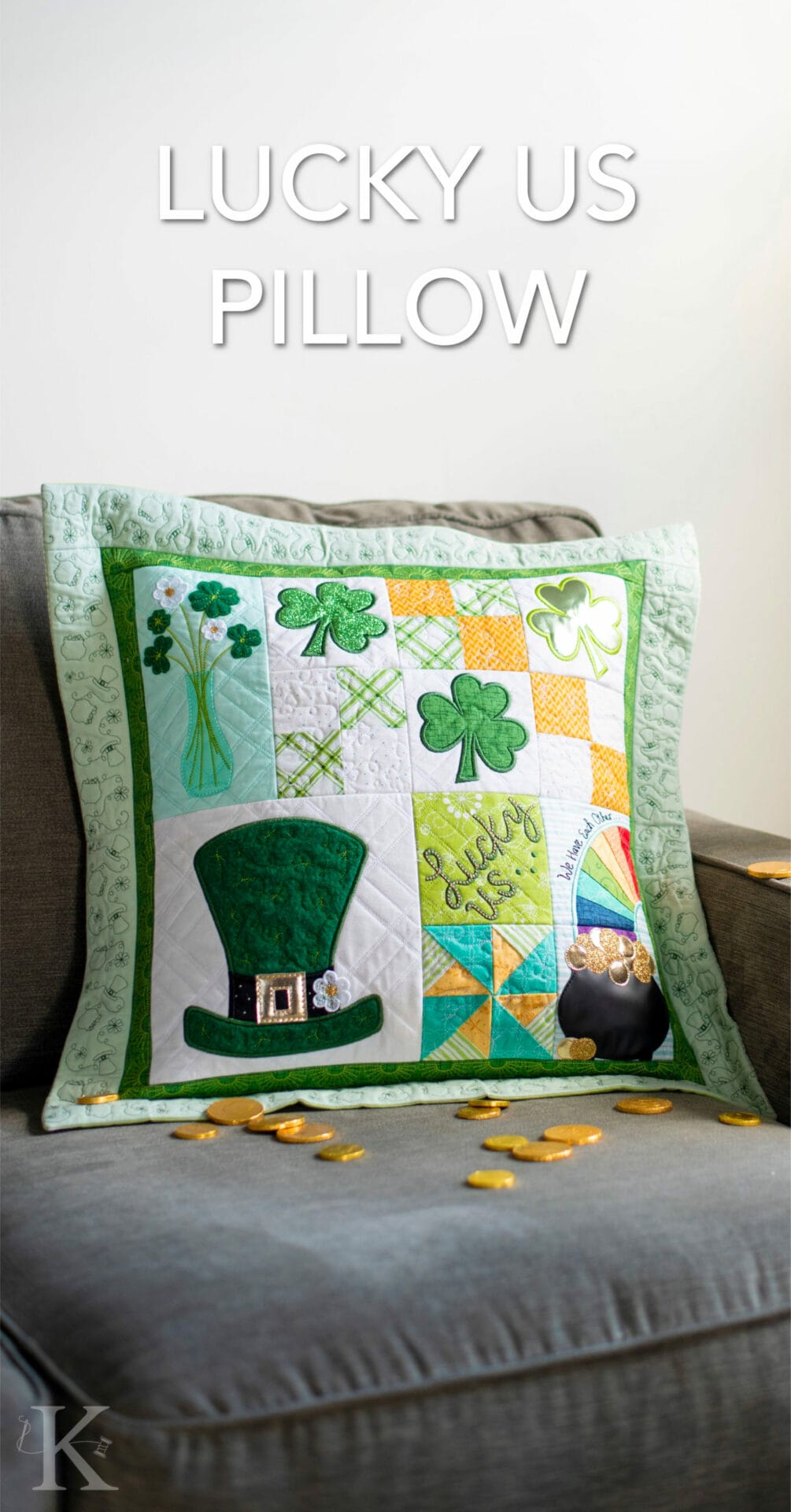 Lucky us…there's a brand-new pillow in the Kimberbell Vault for machine embroidery enthusiasts! The Lucky Us Pillow is a sweet blessing for your hearth and home, with Embroidery Leather, Applique Glitter, Sweet as Candy Vinyl, Embroidery Felt, and just a wee bit o' whimsy. Let's take a look at all the darlin' details!
But first, the backstory…
A Classic Wall Hanging
Like our popular Home is Where the Haunt Is Pillow, the Lucky Us Pillow was inspired by a Kimberbell wall hanging from yesteryear.
Want to see the original? Here it is, in all its Irish glory.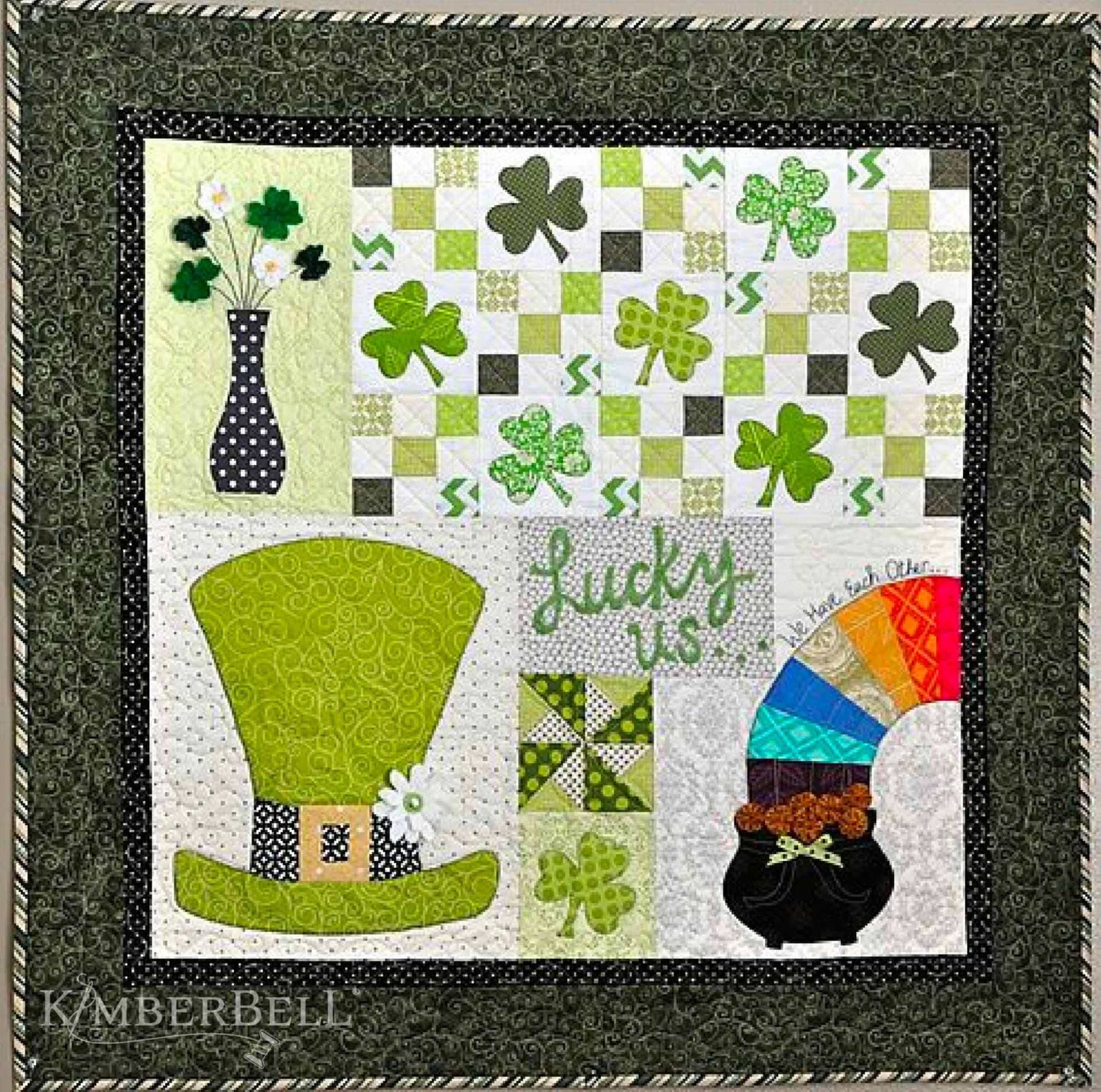 Cute, huh? This charming quilt was done entirely on a sewing machine. But we thought it would be all kinds of fun to adapt the pattern for an embroidery machine and kind of jazz it up a bit. So we carefully digitized each block and turned the original design into a 22 x 22″ pillow perfect for your spring celebrations!
Here are some of our favorite features:
Under the Rainbow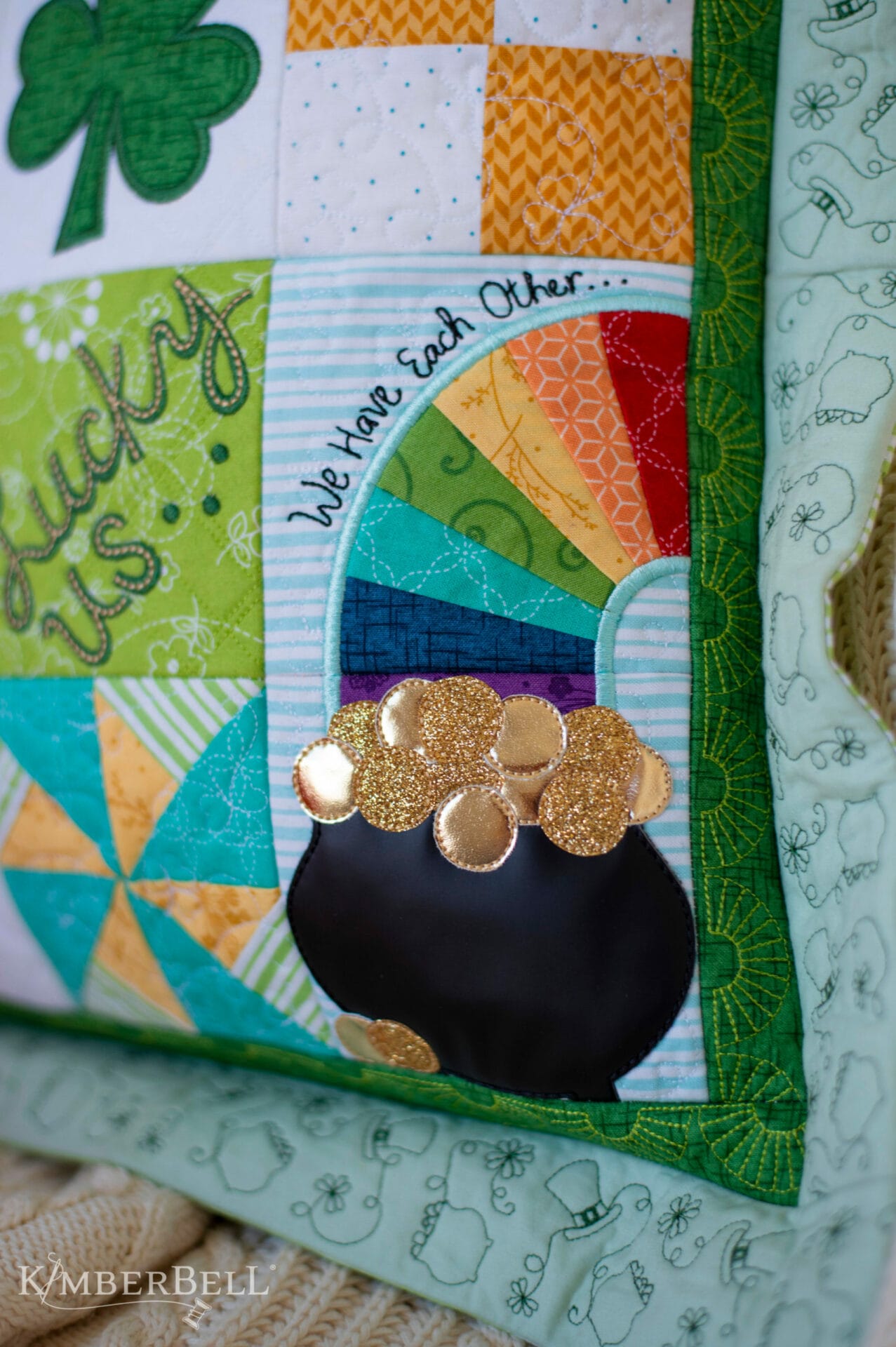 Follow bright and beautiful colors to the rainbow's end and…eureka! You'll discover a sparkling pot of Embroidery Leather and Applique Glitter gold. (Isn't that gorgeous?) But of course, the REAL treasure is found in the completion of the "Lucky Us" sentiment: "We have each other…"
Yeah, having people to love is (no question!) the best treasure ever.
Also notice the quilting on the flanged border. (The hats! The pots of gold! The flowers!) You can find our Lucky Us Quilting Bundle (sold separately) HERE.
Another Bloomin' Block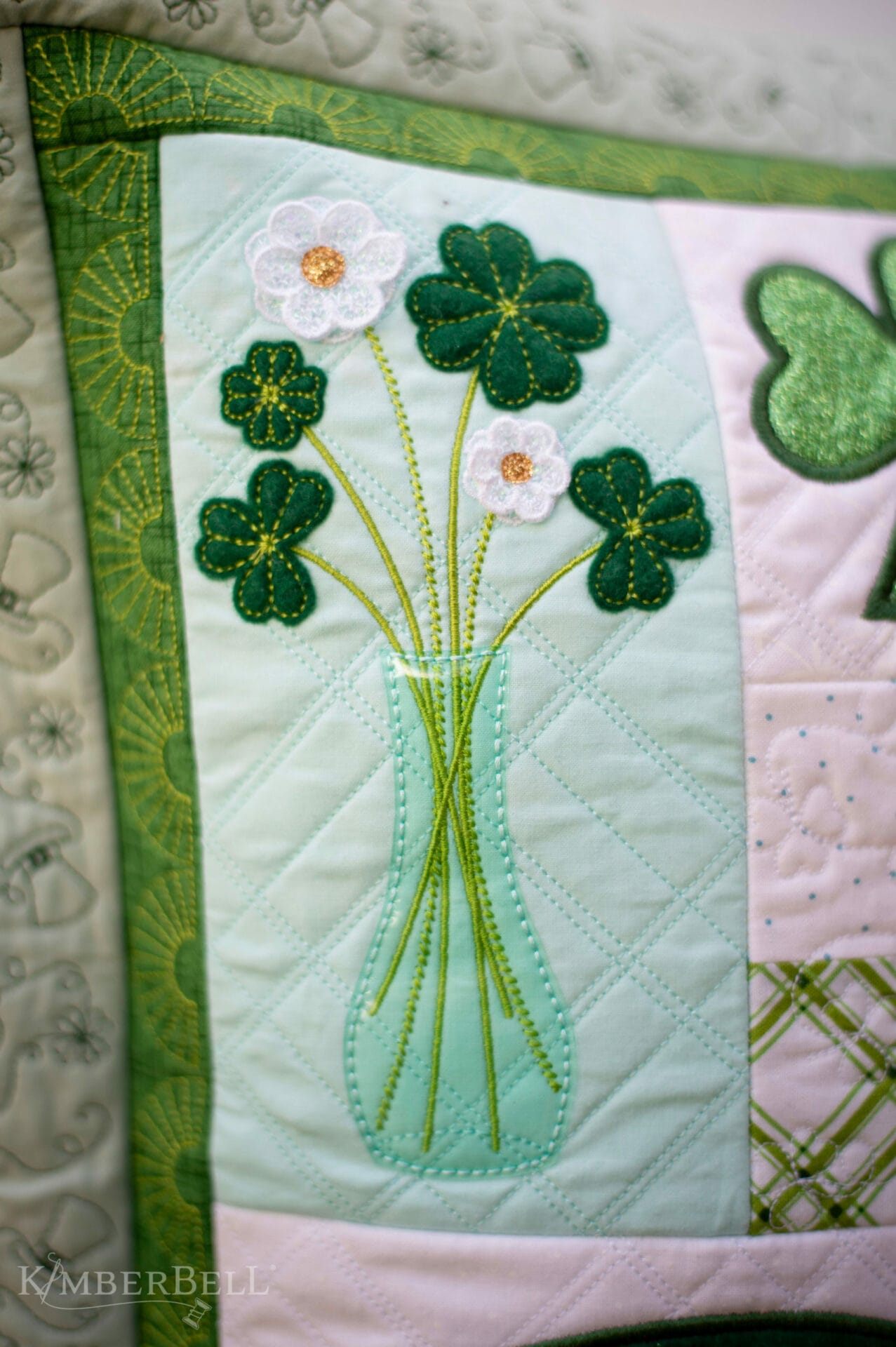 Take a look at this lovely bouquet of shamrocks and daisies inside an applique vase of Sweet as Candy Vinyl! With dimensional petals and satin stems, these wildflowers are just the right touch.
I'll never get tired of using vinyl to create the illusion of glass. The effect is just perfect!
Topping it Off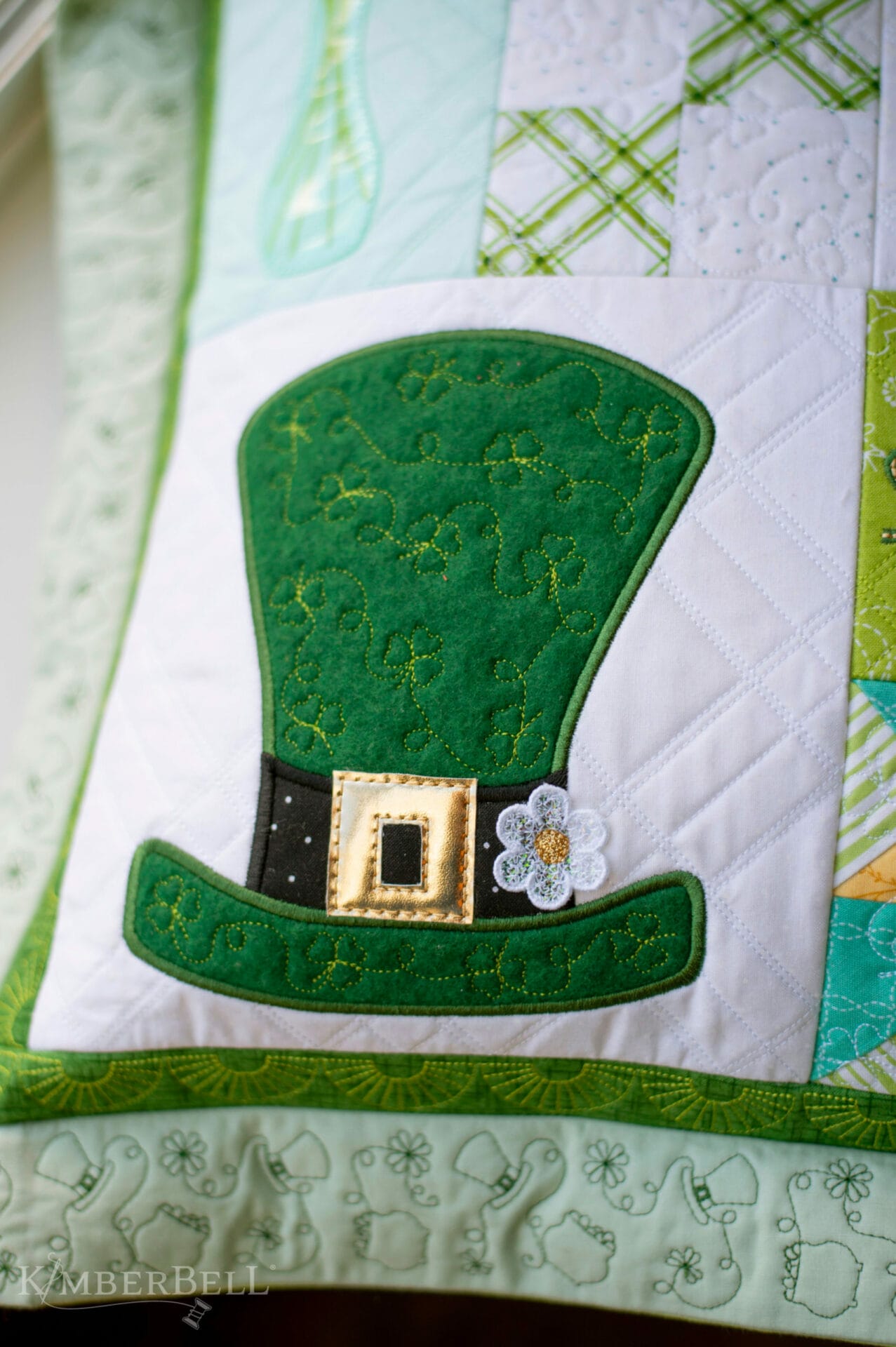 Now, every leprechaun needs a respectable hat, and our hat is made of gorgeous green Embroidery Felt. With shamrock quilting, a Mylar flower, and shiny buckle of gold Embroidery Leather, this quilt block is ready for St. Patrick's Day!
Pssst….for even more leprechaun fun, be sure to check out our Luck o' the Gnome St. Patrick's Day Bench Pillow! 
Shimmery Shamrocks
What would a St. Patrick's Day pillow be without shamrocks? Stitch three shamrock blocks and make them glisten and gleam with Applique Glitter, Embroidery Leather, or your favorite green fabric.
While we're at it, let's take another look at that beautiful background quilting. Notice the little rainbows on that inner border! Do you see how all of the quilting elements perfectly coordinate with the different blocks in the pillow?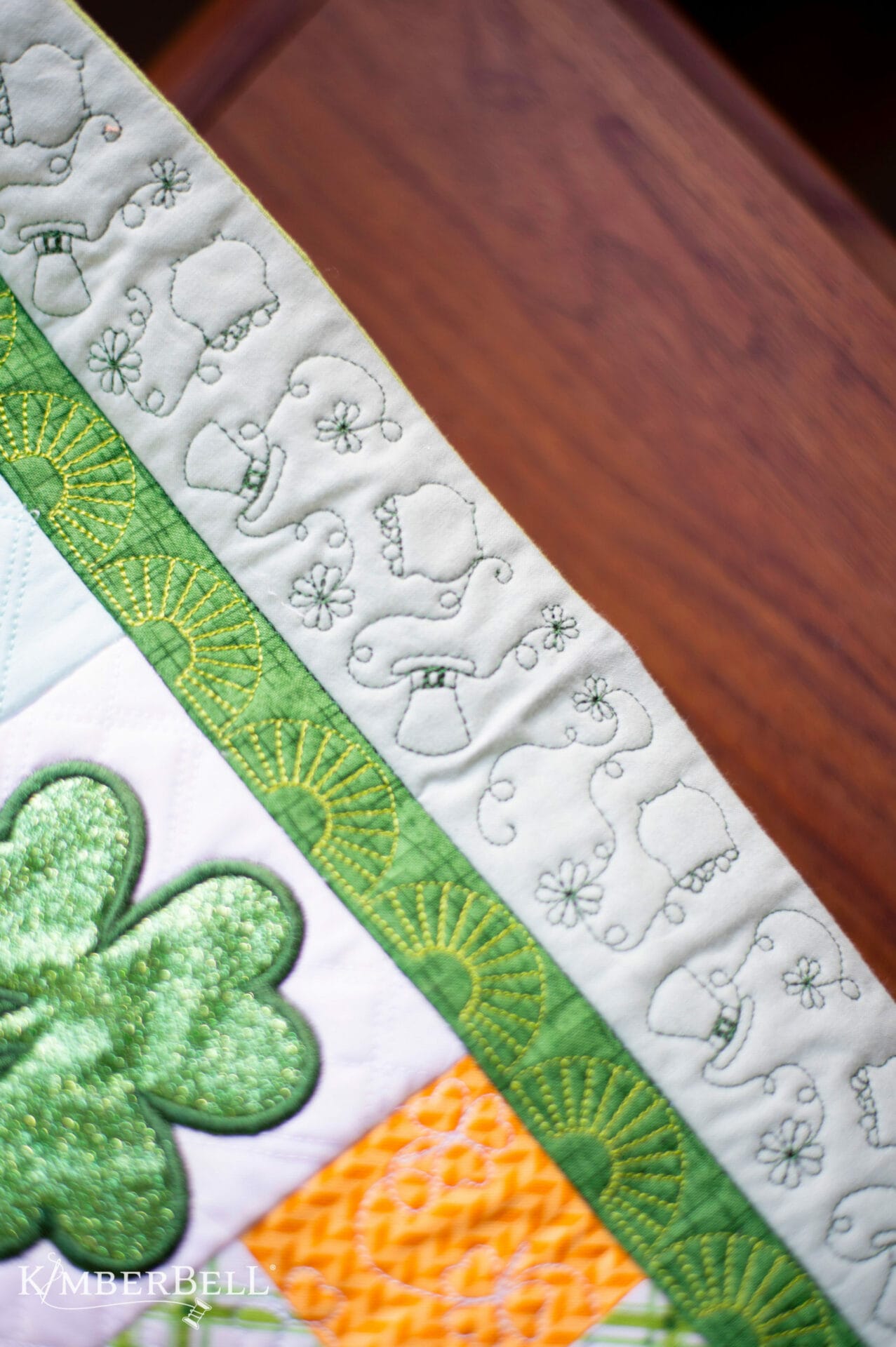 Join the Sew-along!
From applique clover to patchwork all over, Kimberbell's Lucky Us Pillow is delightful St. Patrick's Day-cor. 🙂 Purchase and download the embroidery files and instructions HERE in the Kimberbell Vault, receive the background quilting bundle HERE, and find fabric kits and embellishments from your favorite quilt shop today!
But wait…there's more!
Experience the Joy of Creativity™ with us next week! Join Kim on Monday, January 10th; Wednesday, January 12th; and Friday, January 14th at 12:00 NOON, Mountain Standard Time, for a live sew-along. Kim will teach tips, techniques, and all the ins and outs of making the Lucky Us Pillow. (And don't worry, these videos will be recorded so you can watch them later or even again and again.) We hope to see you at the sew-along!
Until then, here's a little "Irish blessing" for you. (I'm only, like, 1% Irish so please bear with me.)
May your needles stay sharp
Your threads all shine bright
As you stitch Lucky Us
With great joy and delight!