NEW and now available from your favorite quilt shop…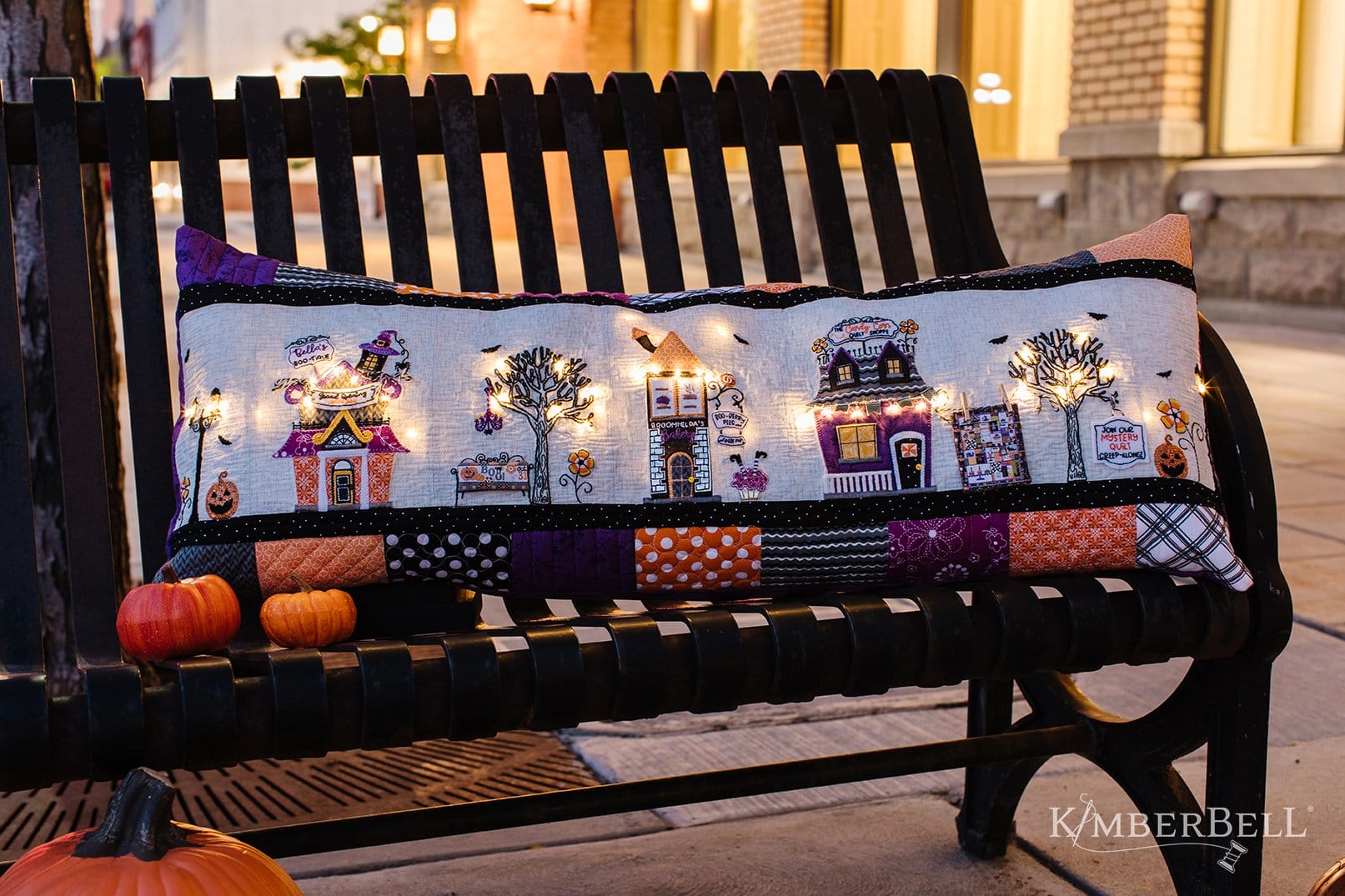 Kimberbell's Twilight Boo-levard Bench Pillow is absolutely enchanting. The lights! Don't you just love the stunning fairy lights? I mean, they turn on and everything, bathing the pillow in a beautiful, bewitching glow. And the little Halloween Boo Bench Pillow? And the candy corn flowers? And the miniature Broomhilda's Bakery quilt? And? And? And?
But I'm getting ahead of myself, here. Let's tour Twilight Boo-levard together and visit all of our favorite "haunts!" But first, let me put on my very best ghost-storytelling voice to set the mood:
(Ahem.)
"In that mystical moment between sunset and moonrise, Twilight Boo-levard appears…"
Are you in your imagination now? Then let's explore the Bench Pillow together! Our first stop is Bella's Boo-tique. I've heard they carry the very latest styles for the on-trend witch: pointy hats, billowy cloaks, and big-buckled shoes. But the treasures  inside can't rival the dazzling storefront, with purple and black Applique Glitter and a "Grand Opening" banner hung from Kimberbell Twine!
Next, let's rest for a spell beneath a creaky old tree. The chandelier and spider hanging from the branches are reminiscent of a Spooky Soiree, while the wrought-iron bench features a miniature Halloween Boo Bench Pillow. (Seriously. How adorable is that? It's poofy and everything!)
Now, it's widely known that the boo-berry pie from Broomhilda's Bakery is simply "to die for," so we'd better have a taste. And I don't mean just in our imaginations. You see, Broomhilda was gracious enough to share her recipe, so please treat yourself to her Boo-berry Mini Pies! They're easy to make and oh-so delectable. Broomhilda herself is wondering which way is "witch," for it seems she's toppled headfirst into a giant cupcake frosted with pink Applique Glitter. (I guess she'll just have to eat her way out?)
And speaking of delicious things, just take a look at the silver Embroidery Leather bricks on the building!
Our final stop will be the Candy Corn Quilt Shoppe, all decked out with a string of Embroidery Leather pennants. Have you noticed their new display? It's a tiny replica of Kimberbell's Broomhilda's Bakery feature quilt, hung by wooden clothespins on Kimberbell Twine. A dimensional sign also hangs from the tree announcing a Mystery Creep-Along. I'm not sure what that's all about, but the idea gives me a thrill!
Up and down the street, twinkling Fairy Lights shine from the lamp posts and trees, brightening the boo-levard in wonderful ways. Happy Jack-o'-lanterns of copper Applique Glitter add an element of charm, as do the candy corn flowers made of sparkly Mylar. There's no doubt about it–my time on the boo-levard has been simply magical.
Twilight Boo-levard is available for both sewing and machine embroidery so it's a real treat for every stitching enthusiast. Be sure to pick up the Embellishment Kit, including all of the dimensional details needed to finish the Bench Pillow! The kit and everything needed to create Twilight Boo-levard is now available from your favorite quilt shop.
Thanks for taking the tour with me, I had a fa-boo-lous time! 🙂