NEW and now available from your local quilt shop…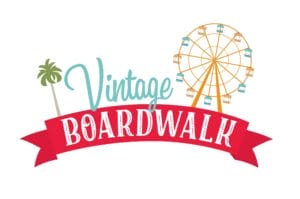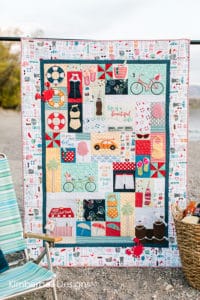 Any time I feel like escaping hard times,  I immediately want to head to a body of water. There's something so soothing about rivers, lakes, and oceans, and with everything going on right now, nothing sounds more appealing to me than heading to the seaside!
But…since I can't do that today, I'm going to let my imagination transport me to Kimberbell's Vintage Boardwalk. I'll slip my flip-flops and sunglasses on and take a leisurely stroll to the hot dog stand for hot eats and cool treats (hey, I'm hungry in my daydream). Then I just might rent a bicycle and go for a ride beneath the tall palm trees, but first I'll change into my cute vintage suit so I can catch a little "vitamin sea!" As I pedal along, I'll laugh at the silly crabs hanging on life preservers and dock ropes, while seagulls smirk from the wooden posts above. Yes, Kimberbell's Vintage Boardwalk is definitely a place to let all my cares "drift away!" 
I think one of the reasons this new feature quilt is so popular is because of the sweet memories invoked with each and every block, from the chic beach bag and carnival tickets to the cotton candy and cola. And who doesn't love remembering sunny moments with the people we love best?
Available for purchase at a quilt shop near you, Kimberbell's Vintage Boardwalk quilt also comes with bonus projects including the "Oh, Happy Day!" Wall Hanging, the Time to Coast Throw, and four designs for the Beach Days Travel Tote. You can also purchase the Vintage Boardwalk Quilt Embellishment Kit, which comes with all of the delightful Kimberbellishments you'll need to complete the project!
While making the quilt, please join us for our Vintage Boardwalk Tips & Tricks Series, where Laurie demonstrates a variety of helpful techniques:
[embedyt] https://www.youtube.com/embed?listType=playlist&list=PLUpKb7-gE1WWhWUjEi7MH_IG5zhVMdP0m[/embedyt]
With Kimberbell's Vintage Boardwalk, I hope you'll rewind the clock, slow the pace, and remember that "life is a beautiful ride."