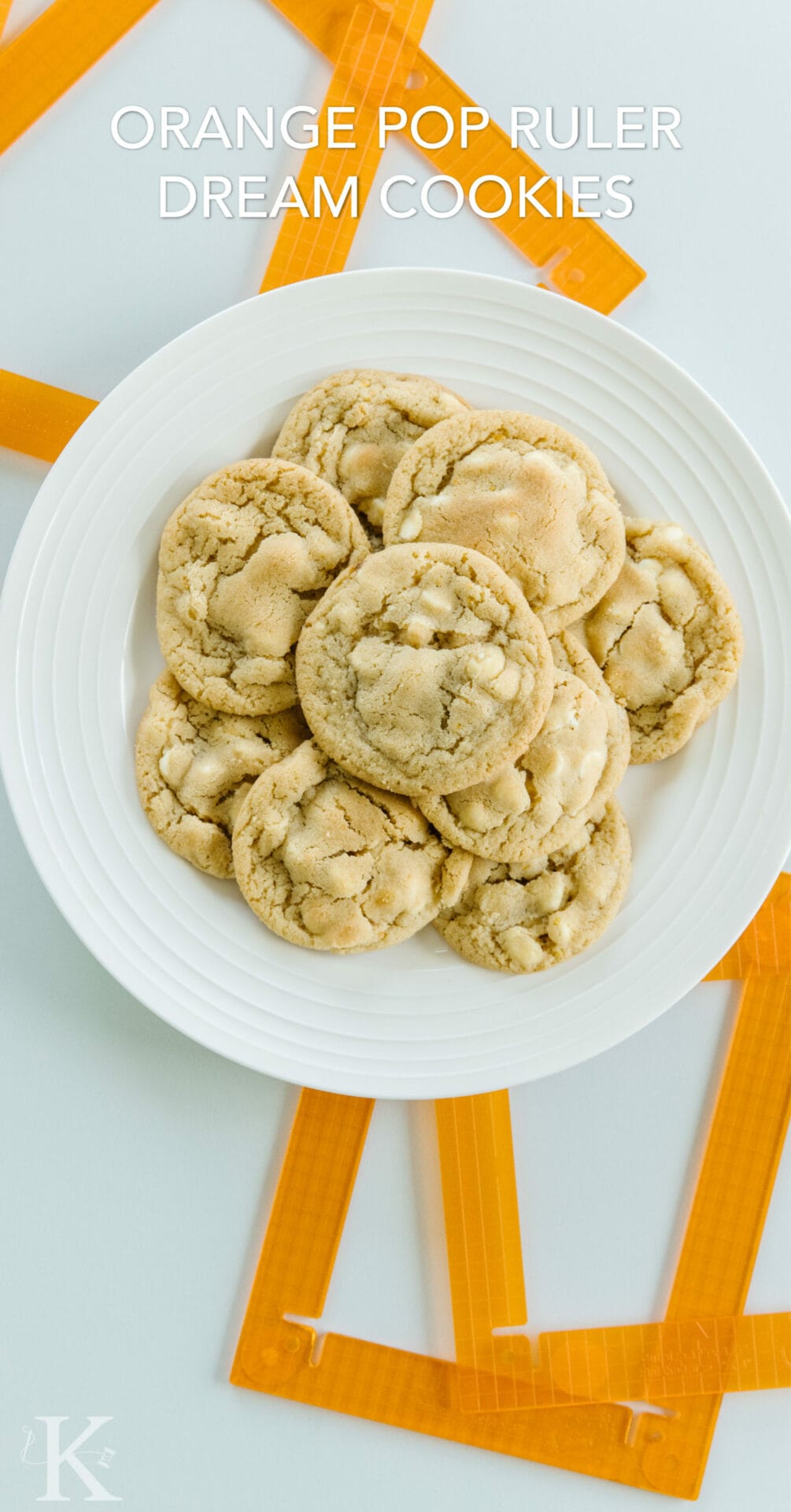 Inspired by Kimberbell's innovative Orange Pop Rulers, these dream cookies are rich and delicious, with just a hint of orange. Enjoy warm from the oven with a glass of cold milk!
Orange Pop Ruler Dream Cookies
Ingredients
1 cup (2 cubes) butter, softened
1/2 cup sugar
1/2 cup brown sugar, firmly packed
1 egg
2-3 tsp. grated orange peel
2 1/4 cups flour
3/4 tsp. baking soda
1/2 tsp. salt
2 cups white chocolate baking chips
Directions
In a large mixing bowl, cream together butter, sugar, brown sugar, egg, and orange peel.
In a separate bowl, whisk together flour, baking soda, and salt.
Combine cream mixture with dry ingredients. Stir in chips.
Drop by rounded tablespoons onto ungreased cookie sheets.
Bake at 350 degrees for 10-12 minutes or until cookies are a light golden brown. (Do not overbake!)
Let stand for two minutes before transferring to cooling racks.
Enjoy!
Yield:  3 1/2 dozen
Orange Pop Rulers
So…what are Orange Pop Rulers?
Kimberbell's phenomenal rulers make squaring up quilt blocks simple and accurate. Visually center embroidery and applique designs before you cut! The open frame allows you to see your block while keeping the ruler flat and level for precise cutting. No-slip grips on the back of the rulers prevents the tools from slipping while cutting. Orange Pop Rulers come in a square set and in a rectangle set!
Want to see how they work? Check out this video demonstration: