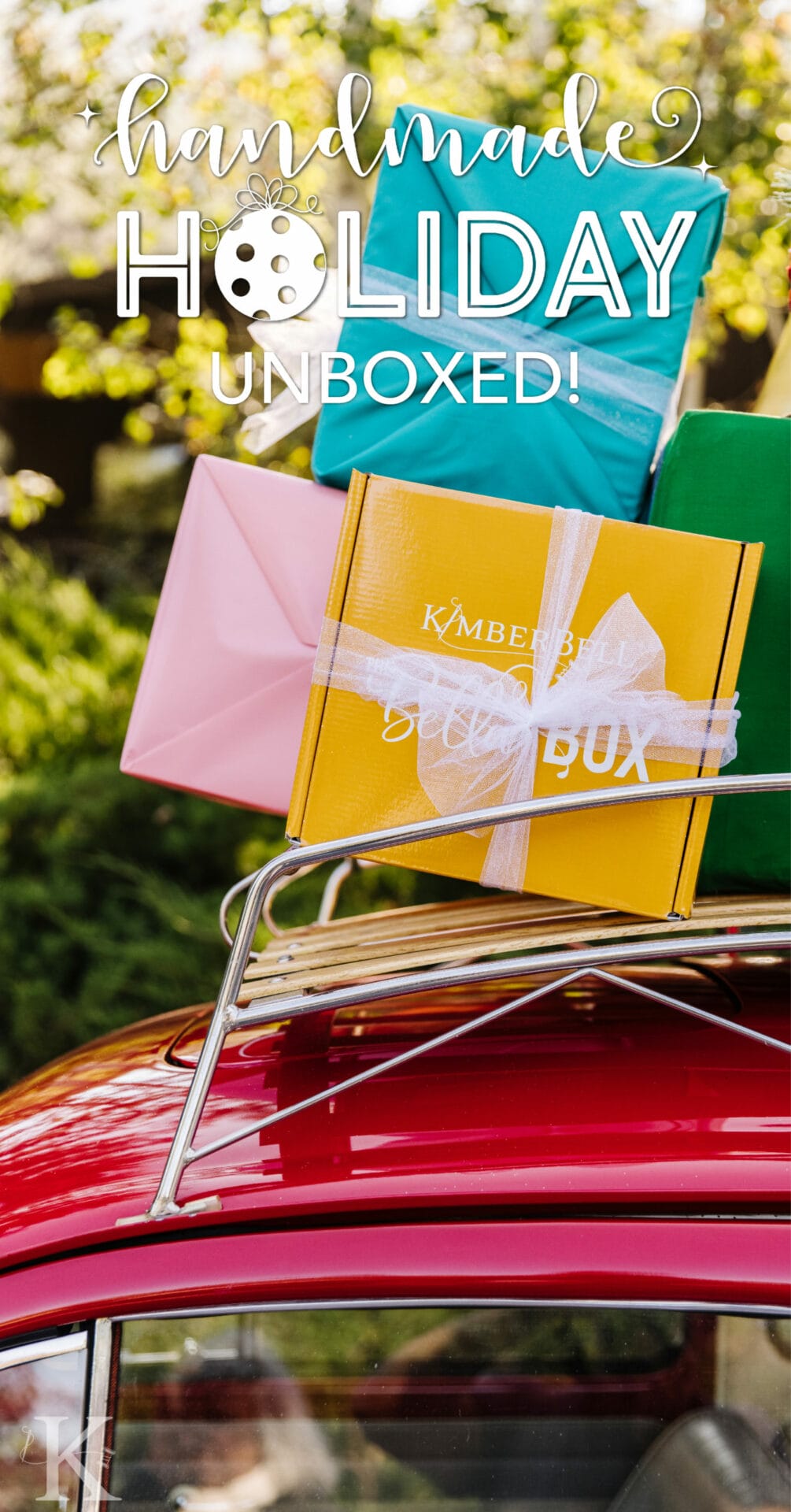 To the tune of "Jingle Bell Rock"
Kimberbell, Kimberbell, Kimberbell's box
Orange and bright, it's such a delight!
Next month, the Bella Box is comin' my way
for a Handmade Holiday!
Kimberbell, Kimberbell, Kimberbell's box
So much to look forward to!
Giftable projects, let's see what's inside
For me and you!

Okay, so maybe that little song won't win any awards, but I just feel like the Handmade Holiday Bella Box deserves some pizazz, you know? Because the box is THAT good.
Kimberbell's Handmade Holiday Bella Box for machine embroidery is now on sale! (Buy yours HERE today!) And this time, since it's all about gifting and we want you to be able to plan ahead, etc., we're showing ALL of the contents upfront. So if you don't want to see what's inside, stop reading right now…
…But if you do want to know, by all means let's take a look inside! 🙂
EXCLUSIVE PROJECTS
Pieced Poinsettia Table Topper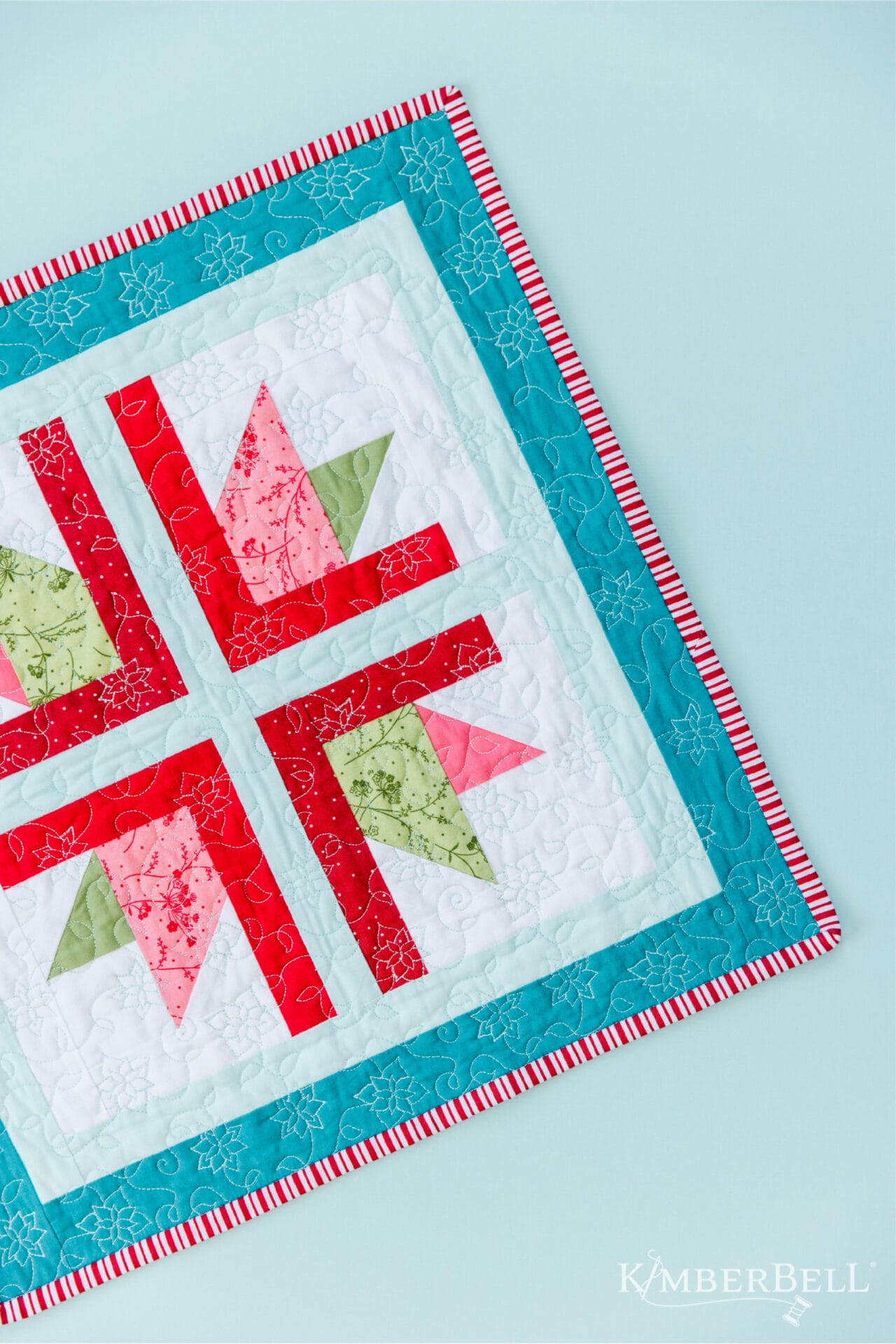 Deck your halls (and tables, too!) with Kimberbell's Pieced Poinsettia Table Topper! This merry centerpiece is completed in four hoopings to create an 18 x 18" square. Choose between the exclusive poinsettia or gift box quilting designs and use Clear Blue Tiles to quilt your project in-the-hoop! With jolly colors and classic patterns, our Pieced Poinsettia Table Topper can also be used to create an 18 x 18" pillow.
Quilted Gift Box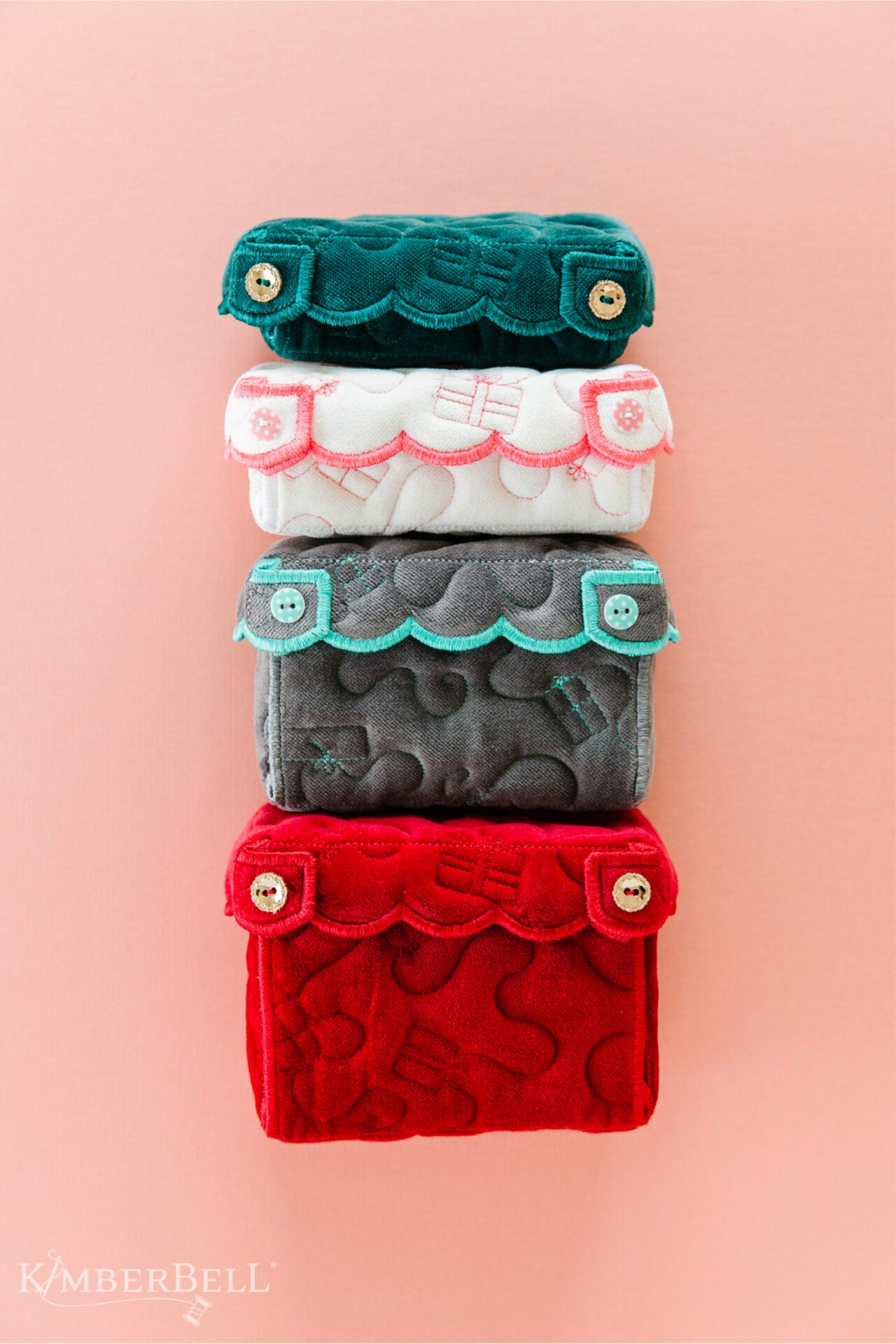 Think inside the box! Kimberbell's Quilted Gift Box is perfect for gift cards, small treats, money, and more. Available in a variety of sizes, each box is made from luxuriously soft Velveteen and features a scalloped lid and adorable buttoned corners. Choose your favorite pattern and stitch the background quilting in-the-hoop! With so many uses, these beautiful boxes are a gift that keeps on giving. (What will you put in yours?)
Note: Although you'll receive design files for FOUR box sizes, the fabric kit in The Bella Box includes materials for the 5×7 size.
Wrapped with Love Plant Holder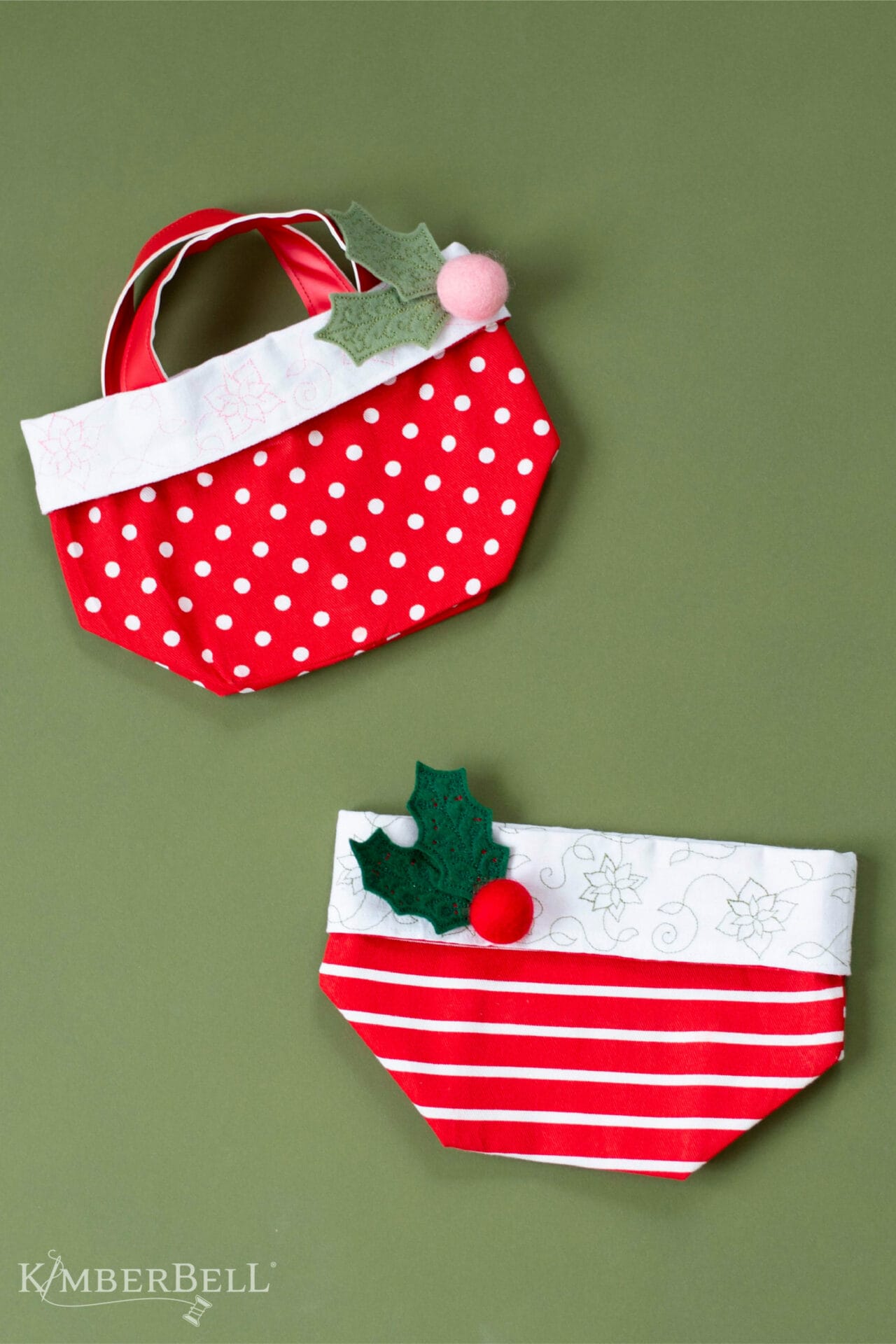 Made from Kimberbell Tea Towels, our Wrapped with Love Plant Holders are a cheerful touch for poinsettias, house plants, and every bloomin' gift. Follow our simple pattern to create the holder, then embellish with holly leaves, Wool Felt Balls, and your exclusive background quilting designs! Slip a potted plant inside the holder and share seasonal smiles everywhere you "grow."
Note: Your Bella Box will include EITHER the polka dot towel OR the striped towel.
Holiday Cheer Wine Bags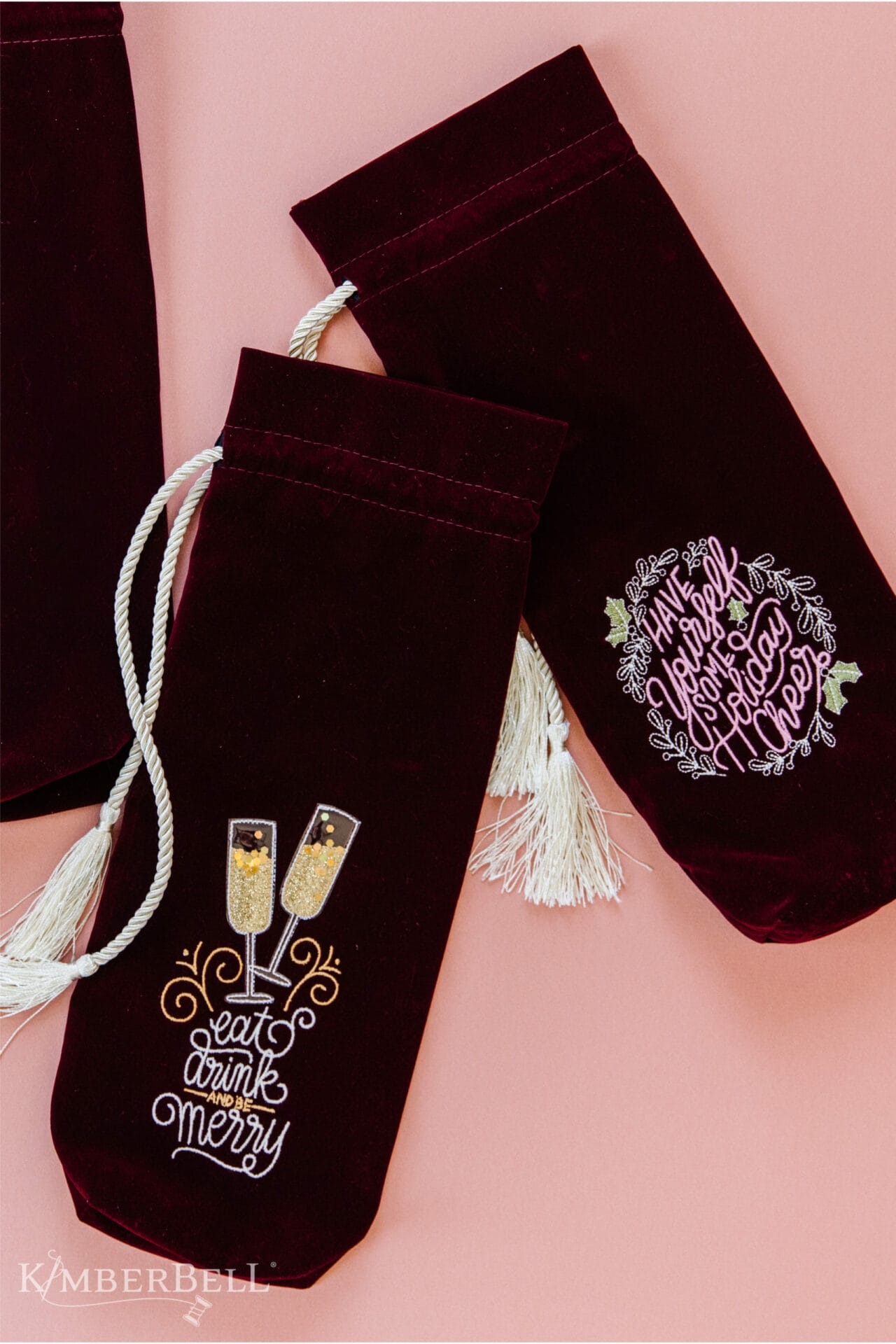 Perfect for special occasions, Holiday Cheer Wine Bags are made of rich burgundy velvet with open side seams for easy hooping. Add the "Have Yourself Some Holiday Cheer" or "Eat, Drink, and Be Merry" sentiments, then close the sides with a simple straight stitch! With a corded drawstring and a splash of Applique Glitter, these beautiful bags add a tasteful touch to wine bottles, sparkling ciders, and more.
Note: Your Bella Box includes two design files and one wine bag blank!
Joyful Wishes Greeting Cards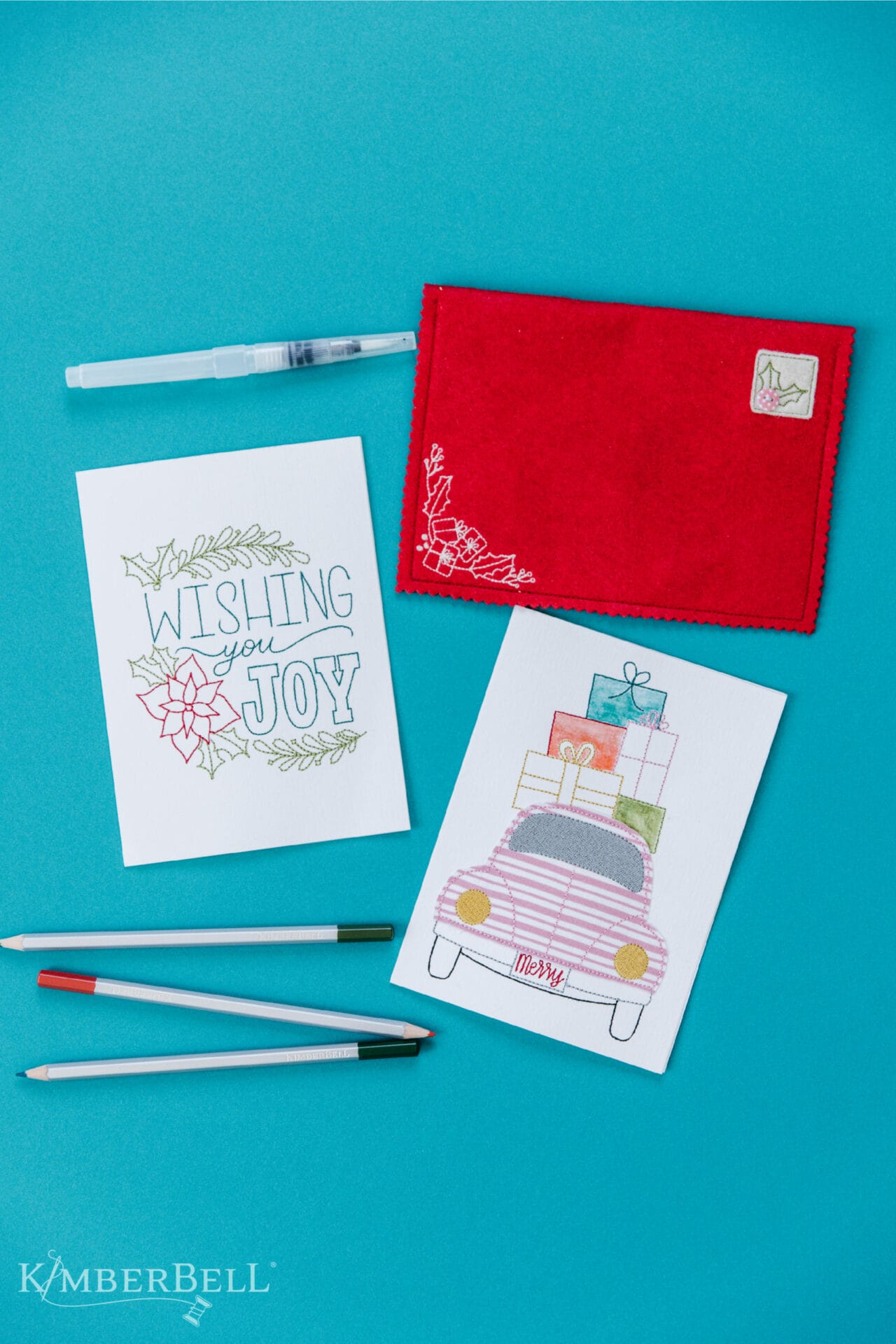 Take gift giving to a whole new level with Joyful Wishes Greeting Cards! We've got two darling designs to stitch on your cards: "Wishing You Joy" and our homeward-bound holiday VW.  Stitch your design directly on the card, then use the included pencils and brushes to fill in with color!  Personalized envelopes of soft Embroidery Felt come together easily in your hoop, turning simple cards into treasured keepsakes.
Tip: Use the monogramming feature on your embroidery machine to add a name to the front of the envelope! 
Seasonal Chef Apron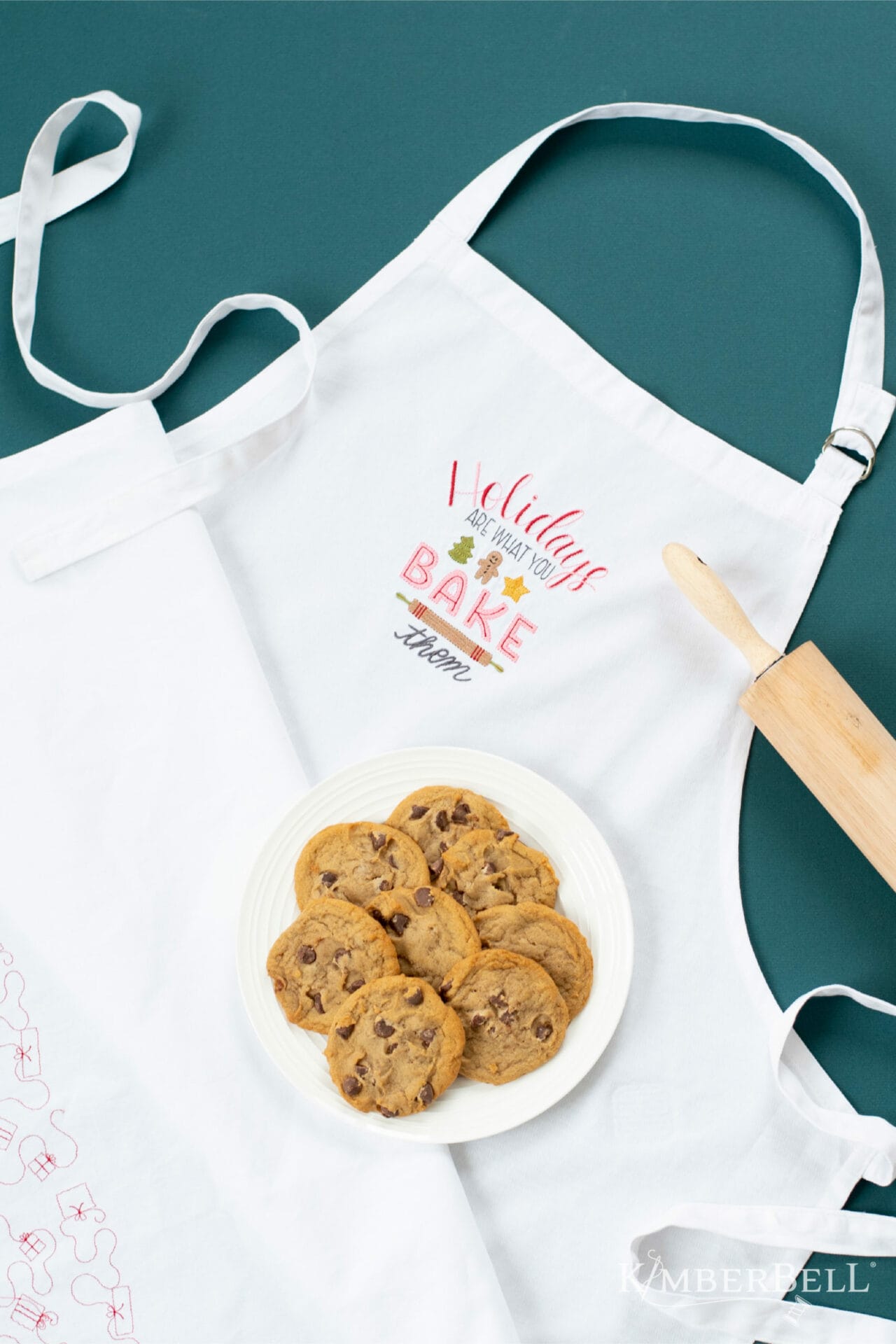 "Holidays are what you bake them!" Kimberbell's Seasonal Chef Apron is a culinary delight, with freshly-stitched Christmas cookies and a sweet sentiment. Add your design to our homey Adult Apron Blank and deliver with a warm batch of cookies! Made from crisp, white cotton with an adjustable neck strap, our Seasonal Chef Apron is the right recipe for stitchin' in the kitchen. 
Who will you be gifting these exclusive projects to? A neighbor? A teacher? Yourself? 🙂
BONUS PROJECTS
In addition to the six exclusive projects shown above, the Handmade Holiday Bella Box also includes SIX bonus designs which you may download immediately upon purchase of the box. Ready to see them?
Drumroll, please…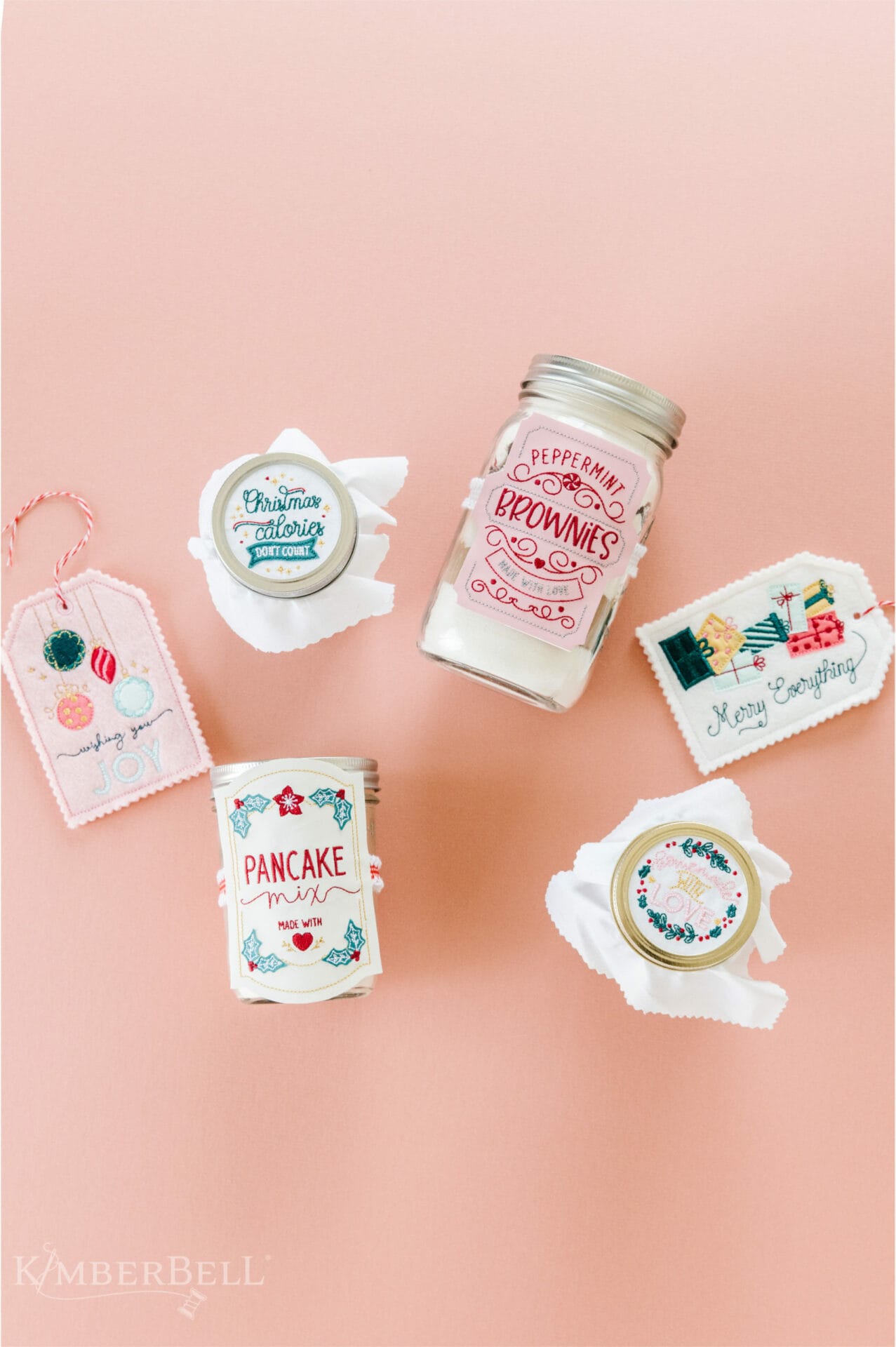 Designs include:
Wishing You Joy
Pancake Mix Made with Love
Christmas Calories Don't Count (amen to that)
Peppermint Brownies Made with Love
Merry Everything
Homemade with Love
Use these bonus designs as gift tags, bottle toppers, labels, and more! And, for extra fun, your Bella Box USB also includes the recipes and labels for the peppermint brownies and pancake mix! Simply assemble the ingredients, print out the instructions from your USB, and attach your stitched design. Voila! You've a thoughtful homemade gift, all ready for a lucky recipient.
Your Bella Box also includes a variety of extra goodies such as a Kimberbell Fine Mist Spray Bottle, watercolor pencils, a mini magazine, THREE spools of Glide thread, TWO Clear Blue Tiles (a 4×6 and a 6×10), two exclusive background quilting designs (gift boxes and poinsettias) Kimberbell Paper Tape,  and the highly-sought-after, collectable enamel pin.
Whew! That's a LOT of goodies stuffed in one orange box. Oh, and in case I forgot to mention it….your Handmade Holiday Bella Box also includes the printed, full-color instructions!

If you missed our Baking Memories unboxing event with Kim, me, and our three delightful Kimberbell bakers, you may watch it below! All recipes from this event can be found HERE and you may purchase the Handmade Holiday Bella Box HERE. Grab yours today, as there's a limited supply!  Boxes will ship mid-November.
We can't wait to send it to you! 🙂