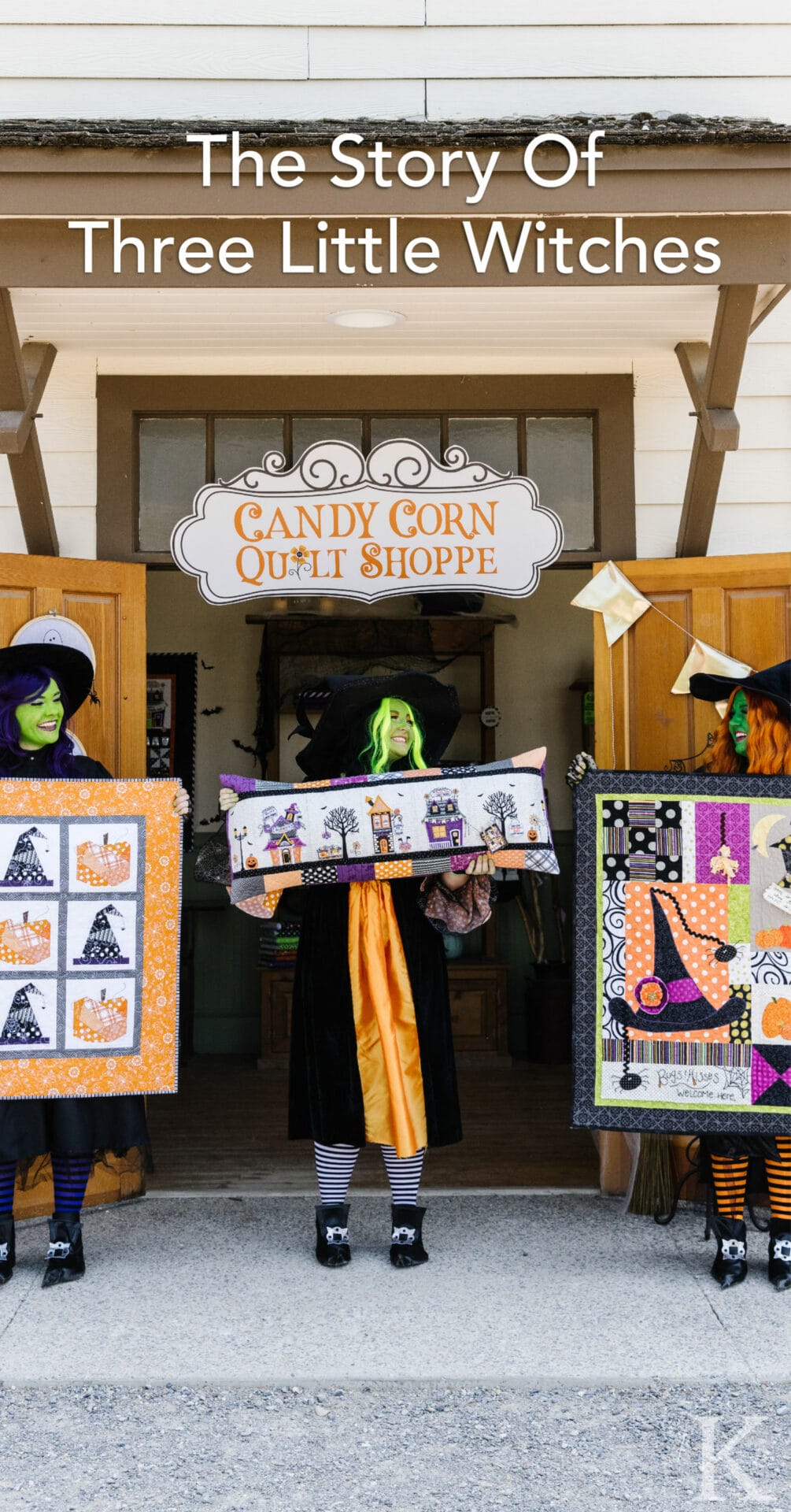 ONCE UPON A TIME…there were three little witches whose favorite "haunt" was the Candy Corn Quilt Shoppe. With green hands, pointy hats, and buckled shoes, each witch  shared her favorite Kimberbell project.
The first little witch made a spook-tacular wall hanging with M.E. by Number designs.
The second little witch finished her enchanting Twilight Boo-levard Bench Pillow.
And the third little witch had a simply fa-boo-lous time stitching Home is Where the Haunt Is (the first-ever Kimberbell quilt)!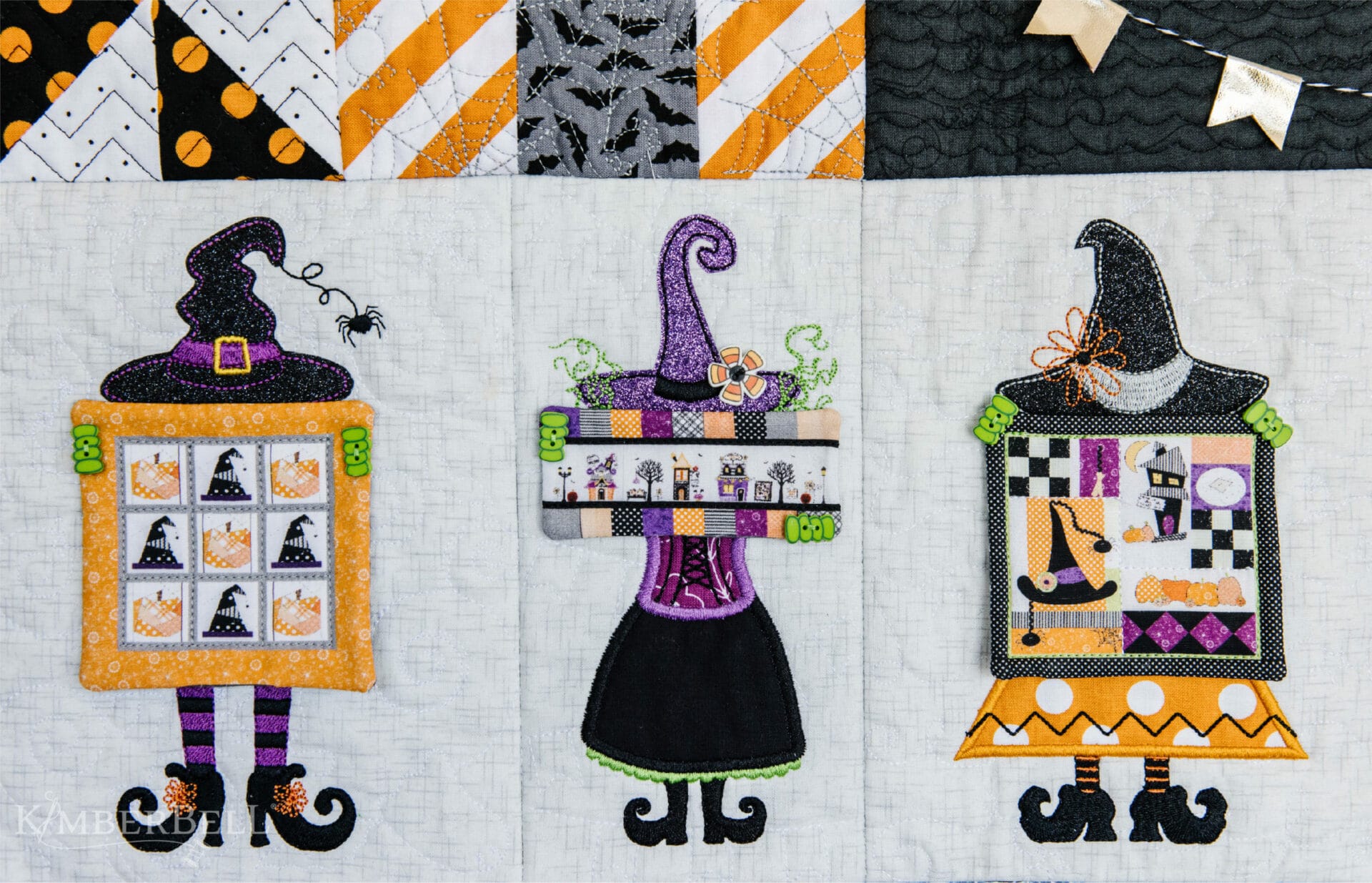 Have you wondered about the three miniature projects featured on the Candy Corn Quilt Shoppe? Behind every stitch is a story, which I'll gladly "show & share!"
M.E. by Number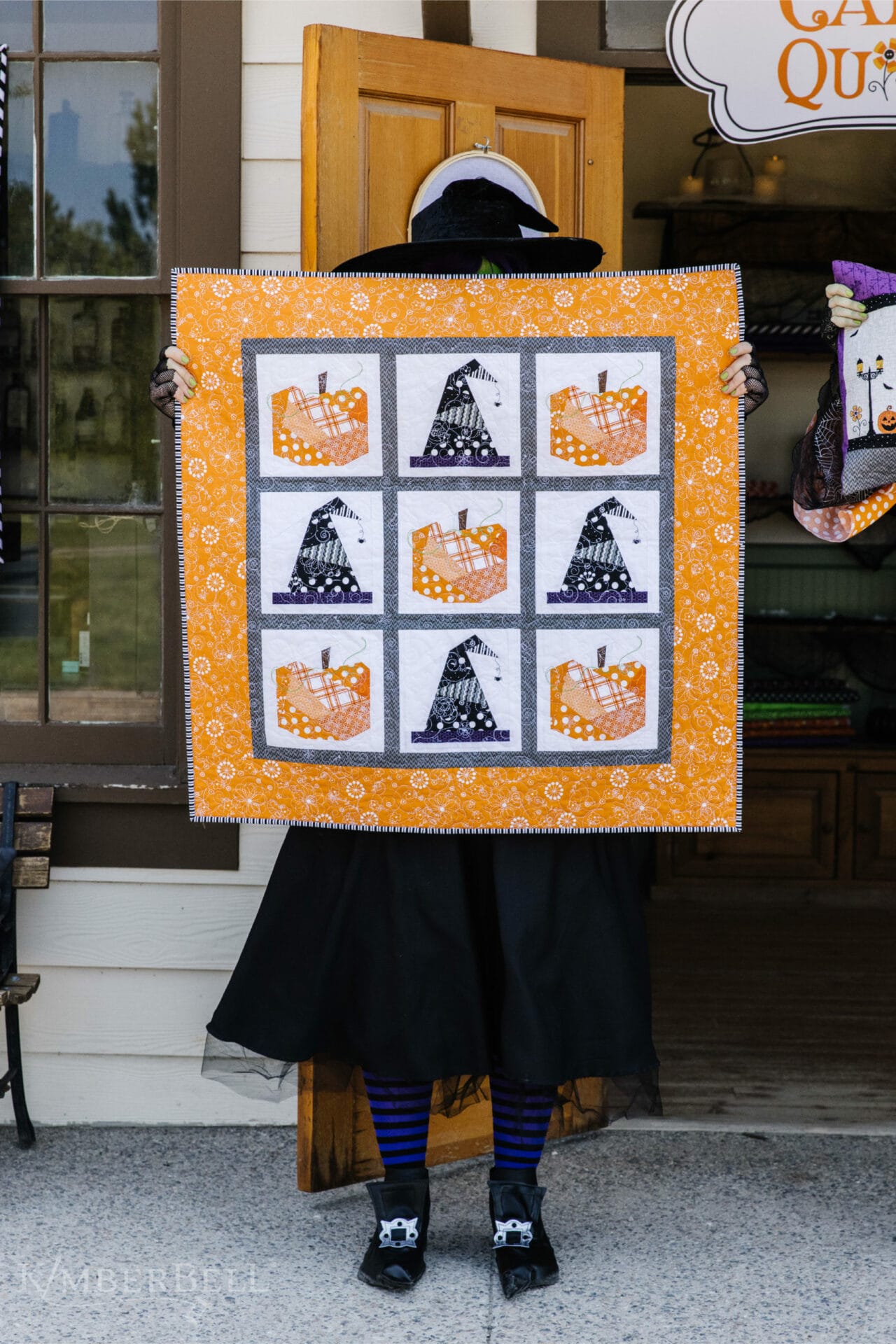 Kimberbell's M.E. by Number: Autumn collection includes FIVE fall designs in five sizes each. Our first little witch chose the Witch Hat (no surprise there!) and Pumpkin for her nine-patch wall hanging. Just like color-by-number, each design is pieced right in-the-hoop by following a stitched template. (Detailed, step-by-step instructions walked our little witch through the whole process!)
Now, are you ready for a treat? Although M.E. by Number: Autumn was previously retired, it's coming soon to the Kimberbell Vault! 
Twilight Boo-levard

Our second little witch conjured Kimberbell's Twilight Boo-levard Bench Pillow just in time for Halloween. She used Fairy Lights, Embroidery Leather, Mylar, and more to stitch Broomhilda's Bakery, Bella's Boo-tique, and even the Candy Corn Quilt Shoppe itself! With sparkly jack-o'-lanterns and spooky old trees , her Twilight Boo-levard  Bench Pillow is so charming, it's almost scary. (Note the miniature Halloween Boo Bench Pillow and Broomhilda's Bakery feature quilt!)
By the way…Broomhilda's Boo-Berry Pies are simply "to die for!" HERE is her magical recipe. (Enjoy!)
Home is Where the Haunt Is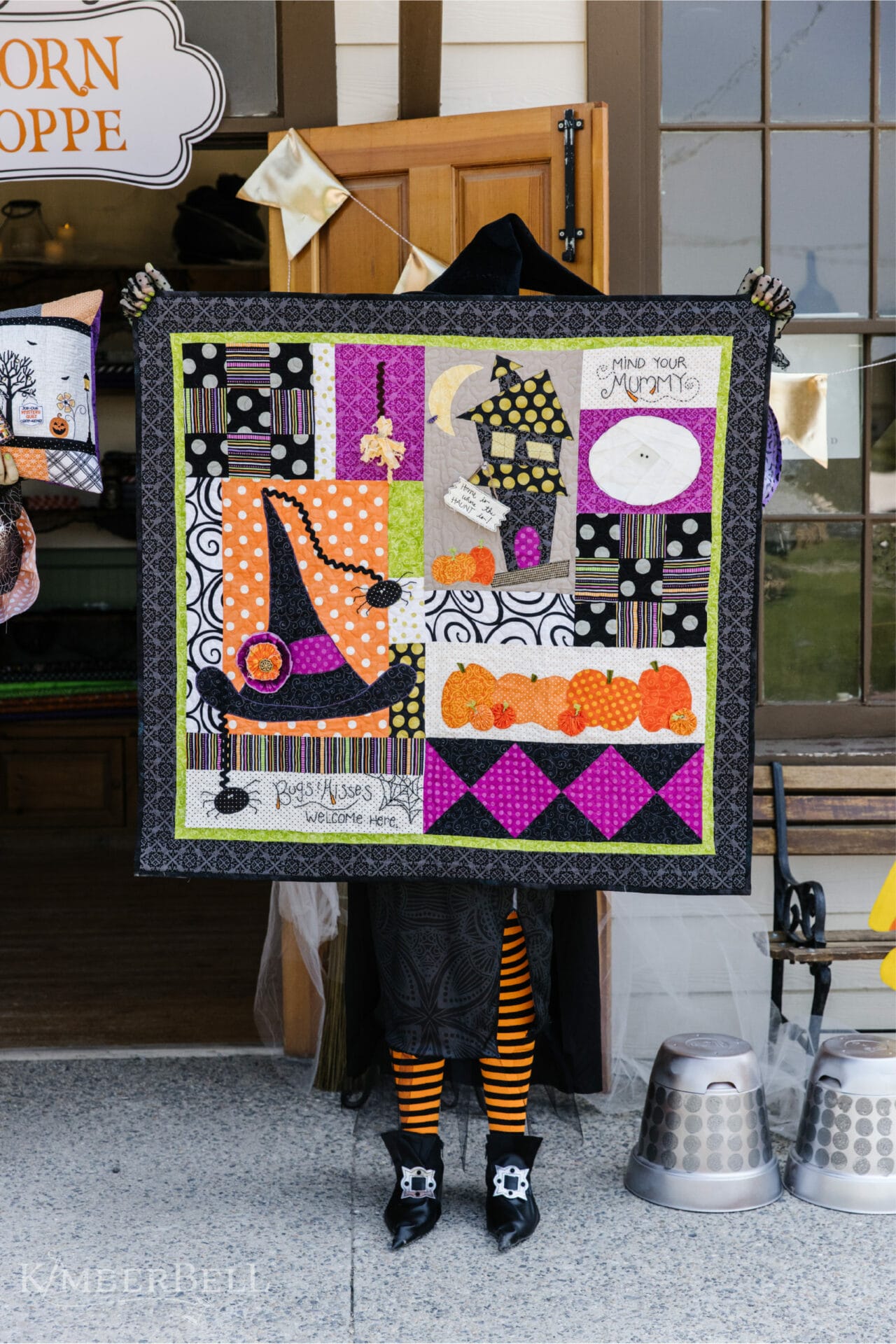 Our third little witch stepped into her time machine and travelled back to the year 2011. As she walked into the new quilt shoppe in town, she learned she could sign up for a MYSTERY HALLOWEEN QUILT. The little witch was intrigued. She'd never heard of a mystery quilt before! (What would it look like?) All she knew was she had two color schemes to choose from.
"Witch" one will she pick?  Fun & flirty OR dark & dirty?
A Blank Wall
And here's how that mystery quilt, Home is Where the Haunt Is, came about. As mentioned above, the year was 2011 and Kim Christopherson's twin sister, Kris, was opening a new quilt shoppe in town. Everything was ready, from fabrics and threads to notions and more. Carefully decorated to be warm and welcoming, each nook and cranny featured project ideas, inspiration, and homey touches.
Except for one wall, which was blank. Completely blank.
This blank wall didn't sit well with Kris. It just looked so…empty, which wasn't the inviting vibe she was going for. So Kim had an idea: put a sign on the wall that said, "Sign up for our mystery Halloween quilt!" and show two color options: fun & flirty or dark & dirty.

United Through Mystery
Well, over 300 people signed up for the mystery quilt well before it was designed. Block by block and stitch by stitch, Home is Where the Haunt Is came to life, building confidence, friendship, and a sense of camaraderie among everyone who participated.
Joy Ercanbrack was part of the experience, right from the start:
I was in the store on opening day and when I saw the cute display about the mystery quilt, I really wanted to do it. There were swatches of fabric and a sign saying, 'Are you dark and dirty OR fun and flirty?' I wandered around the quilt shop for a full hour wondering which one I was! It was really fun to try and identify with something like that, and we hadn't any idea what the quilt would be.

I've been a traditional quilter for a long time but was surprised by how Kim used applique and embellishments. The mummy was the first block I'd ever done with dimensional fabric, and when we finished the witch hat, Kim showed us how to make a fabric flower. She told us, 'Don't put this on until after it's been quilted.' I'd never heard of that before! Everything about the mystery quilt was so exciting and so uniting, with everyone looking forward to the next week's block."
Home is Where the Haunt Is sparked a whole lot of Kimberbell magic, with many feature quilts to come. You might call it the much-beloved ancestor of the Candy Corn Quilt Shoppe. 🙂

Just the Beginning
And thus ends the tale of the three little witches…but perhaps it's the beginning of your story?
Just as each witch dared show her projects at the Candy Corn Quilt Shoppe, we hope you'll share what you create! Join our Kimberbellas [and Fellas, too] Facebook Group to find inspiration and encouragement as you, too, Experience the Joy of Creativity™ with Kimberbell.
And we'll all live bewitchingly ever after.

P.S. A big shoutout to Jessee, Jensyn, and Katie from Kimberbell's Product Development Team. Not only did they bring our three witches to life, they also stitched and tested both the sewing and machine embroidery versions of Candy Corn Quilt Shoppe!