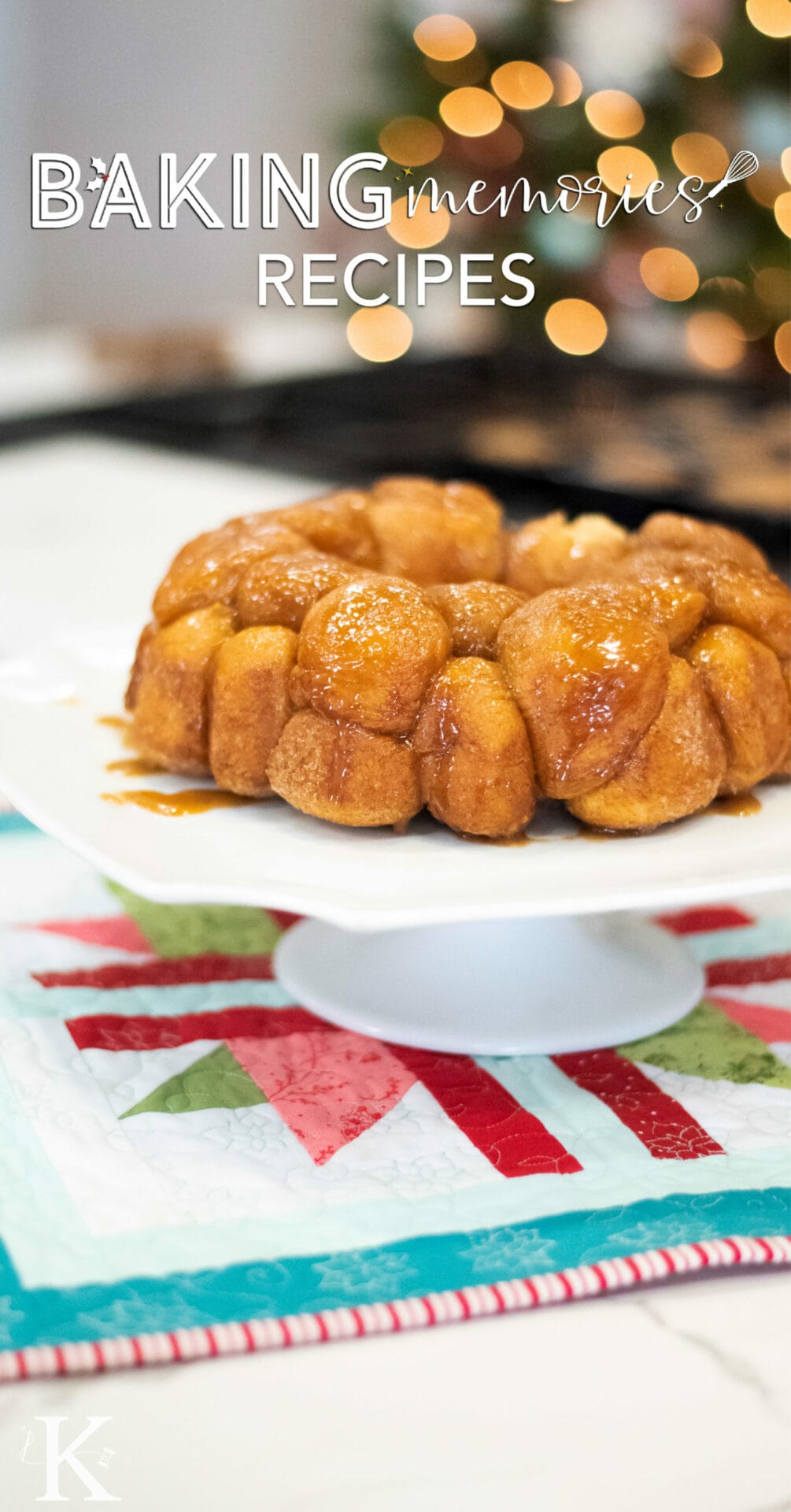 To kick off the Handmade Holiday Bella Box, Kimberbell hosted a live Baking Memories event from Love to Cook at Kitchen Kneads in Logan, Utah. If you didn't get a chance to see it, you can view the event HERE!
But here's the thing…ONLY WATCH THE EVENT IF YOU WANT TO SEE THE CONTENTS OF THE HANDMADE HOLIDAY BELLA BOX!
That's right, we unboxed the contents early and showed every single item during the Baking Memories event. Why? Because this Bella Box is all about holiday gift-giving, and we wanted to give you the chance to plan ahead.
Whether you watch the event now or later, here are the (absolutely delicious!) Baking Memories recipes for you to enjoy. Bon appetit!

Cinnamon Pull-Apart Bread (Becky)

Dough Ingredients
3 ¼ cups all-purpose flour
4 Tablespoons sugar
1 teaspoon salt
2 teaspoons instant yeast
3 Tablespoons milk
1 cup warm water
¼ cup melted butter
1 large egg, beaten
Glaze Ingredients
½ cup brown sugar
½ cup melted butter
3 Tablespoons corn syrup
Cinnamon Sugar Coating
1 cup sugar
3 teaspoons ground cinnamon
½ cup melted butter
Directions
Combine flour, sugar, salt, and dry yeast in a large mixer bowl and stir until blended. Mix the milk, water, and melted butter in a separate bowl.  Add wet ingredients to the flour mixture with the egg.

Beat 6 minutes at medium speed in an electric mixer, scraping bowl occasionally. Add extra flour if needed so that the dough will form a ball.
Knead on a lightly floured surface until smooth and elastic and dough springs back when lightly pressed. Cover with a towel, let rest for 10 minutes.
Spray bundt pan with cooking spray.  Mix brown sugar, melted butter, and corn syrup together in a small bowl and pour in the bottom of the bundt pan.
Make cinnamon sugar coating by mixing sugar and cinnamon in a shallow bowl. Melt the butter in a separate shallow bowl.
Cut dough into balls (the ball should be smaller than a ping pong ball).  Dip each ball in melted butter and then roll in the cinnamon sugar mixture. Place balls in a bundt cake pan until the pan is about halfway full. Cover with a kitchen towel and let rise in a warm place until doubled in size, about 30 minutes.
Bake in a preheated 350 degree oven for 35-40 minutes or until rolls are golden brown and spring back when you tap them. Cool for 5 minutes in a pan, then run a knife between the bread and the pan and invert on a serving plate. Scrape extra brown sugar glaze from the pan and spread over top of pull-apart bread.

Apple Pudding Cake with Warm Caramel Sauce (Erin)

Caramel Sauce
1 cup sugar
1/2 cup salted butter
1 (12oz) can evaporated milk
Place all ingredients in a saucepan.  Bring to a low boil then drop to a simmer.  Stir occasionally for 1-2 hours or until desired consistency.
Apple Pudding Cake
Ingredients
1/2 cup shortening
1 cup granulated sugar
2 eggs
1 1/2 cups cake flour
1 teaspoon baking soda
1/2 teaspoon salt
1 Tablespoon cinnamon
1 Tablespoon ground nutmeg
2 cups grated Granny Smith apple (2-3 apples, depending on size)
1/2 cup nuts (optional)
Directions
Preheat oven to 375 degrees.  Spray 9×9 baking pan with nonstick spray or line with parchment paper.
In the bowl of a stand mixer, cream together shortening and sugar until fluffy.  Add eggs one at a time and mix until fully incorporated.  Mix on med high speed for 2 min.
In large bowl, sift flour, baking soda, salt, cinnamon, and nutmeg.
Peel apples and grate on the large holes of a box grater.
Add grated apples to the shortening, sugar, and egg mixture.  Mix on low until fully incorporated.  Remove bowl from stand mixer.  Add all the dry ingredients (and nuts, if using) to the apple mixture and fold in with a spatula until there are no more streaks of flour visible.
Add mixture to the greased baking pan and bake for 20-25 min OR until edges are golden and an inserted toothpick comes out with a few moist crumbs.
Remove from oven and allow to cool for 10 min before cutting and placing on a serving dish.  Ladle caramel sauce over the top of the warm cake and enjoy!
Best when eaten fresh and warm.  Caramel sauce will thicken as it cools.

Strawberry Santa Christmas Dessert (Will)

Ingredients
1 cup semi-sweet chocolate chips
1/2 cup finely shredded coconut
1 package (8 ounces) cream cheese
1/2 tsp. vanilla extract
2 1/2 cups powdered sugar
12 purchased chocolate cookies (such as Famous Chocolate Wafers)
12 large strawberries
24 blueberries
24 mini semi-sweet chocolate chips
12 mini white chocolate chips
Directions