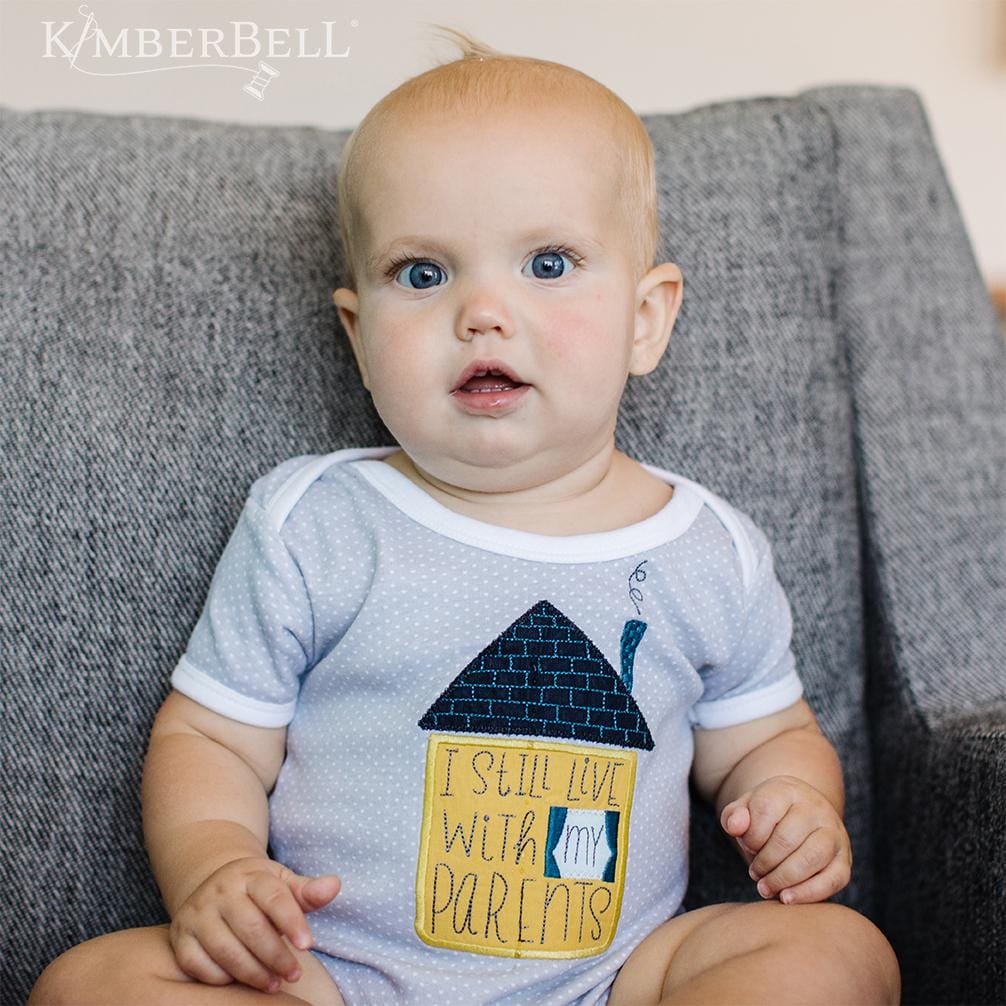 Hover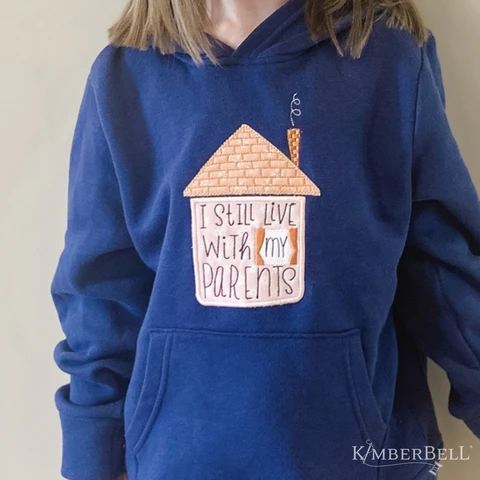 Hover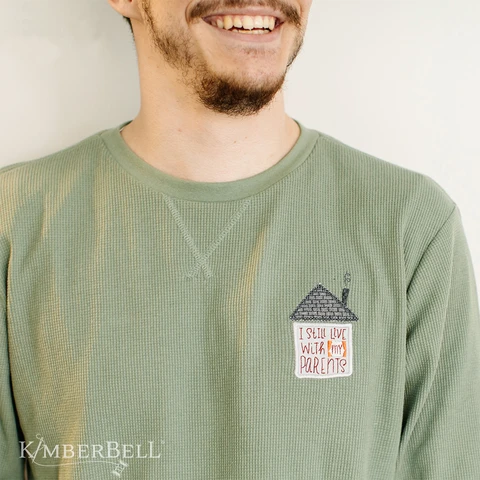 Hover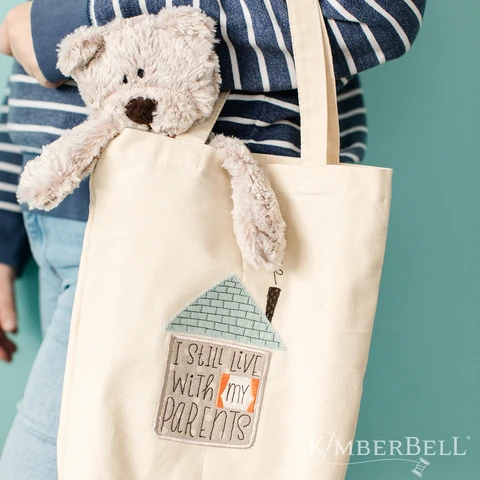 Hover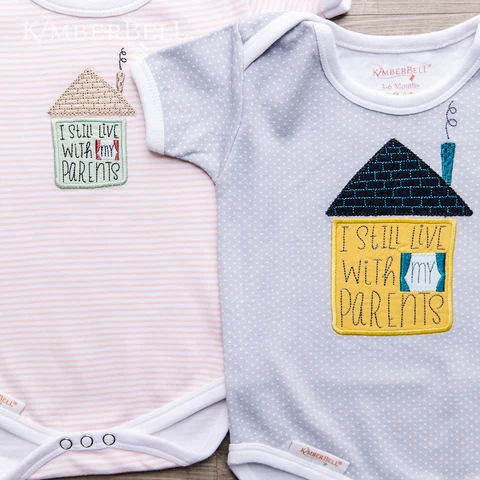 Hover
Hover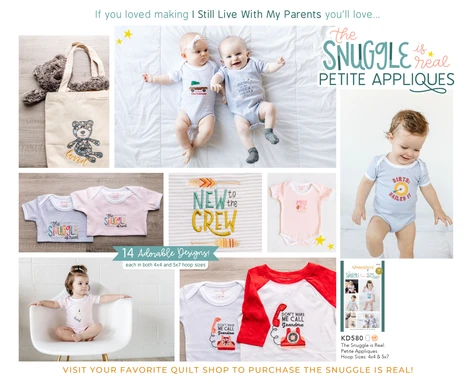 Hover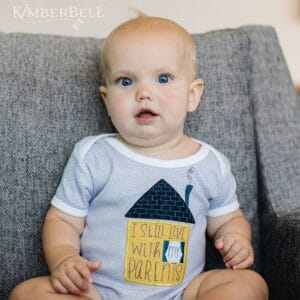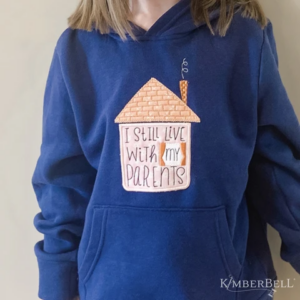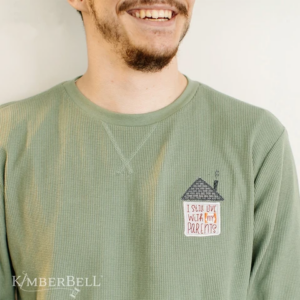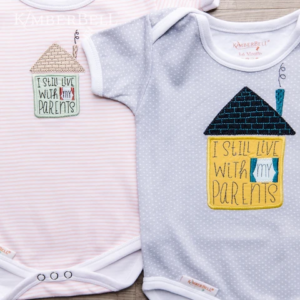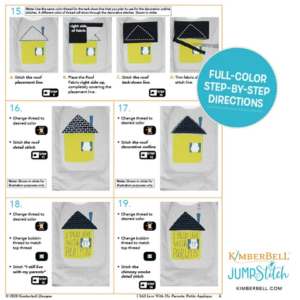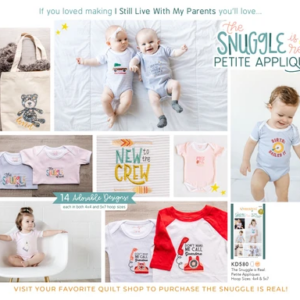 I Still Live With my Parents Petite Applique
Instant Download!
With just the right blend of sweetness and sass, Kimberbell's "I Still Live With My Parents" Jumpstitch design is a delightful addition to a variety of projects! Instructions show how to complete an appliqued Baby Bodysuit, but the design is also charming on sweatshirts, tote bags, and more. When using another blank in place of a Baby Bodysuit, simply hoop with stabilizer according to the machine manufacturer's directions.
$6.00
Specs
Format: Instant Download
Hoop: 4×4, 5×7
Embroidery Field: 4.19 x 6.66" or 106.4 x 169.1 mm
Materials Needed
For materials, find your local quilt shop.
Stabilizer
Sticky-back wash-away
Fabric
Fabric 1: House, fabric scrap
Fabric 2: Window, fabric scrap
Fabric 3: Roof, fabric scrap
Kimberbell Products
Kimberbell Baby Bodysuit
Paper Tape
Other
Lightweight Fusible Interfacing
Fusible Woven Interfacing
Terms
Jumpstitch Purchase Terms
Your purchase of this Jumpstitch project means you agree to the purchase terms and will follow Kimberbell's copyright policy by not sharing the design files, which constitutes copyright infringement under copyright law.
Jumpstitch projects are machine embroidery design files. You need an embroidery machine to use the designs and make the projects pictured. Kimberbell does not sell the finished items shown.
Standard hoop sizes as well as embroidery field dimensions are included for each Jumpstitch project. You are responsible to verify the design fits the hoops on your particular embroidery machine before purchase.
You will need to create an account to purchase Jumpstitch projects. Payment by credit card, PayPal, Google Pay, or Shop Pay is required. A record of your purchases will be saved to your account.
After receipt of payment, the order confirmation screen will appear with an assigned Order # in the top left corner. Just below the Thank You! line, you will find the option to Click here to download your digital goods.
You will receive two emails after purchase with the order number in the Subject line. The first will be a receipt from Kimberbell. The second will follow with a link to download the Jumpstitch files you have purchased.
The download folder will include design files in all sizes and file formats (as listed in project SPECS), Directions PDF with color charts, plus SVG files (if part of the design).
Kimberbell will also send a confirmation email with the download link. Because you are purchasing the design as a digital download, we cannot offer refunds, returns, or exchanges for any design file.